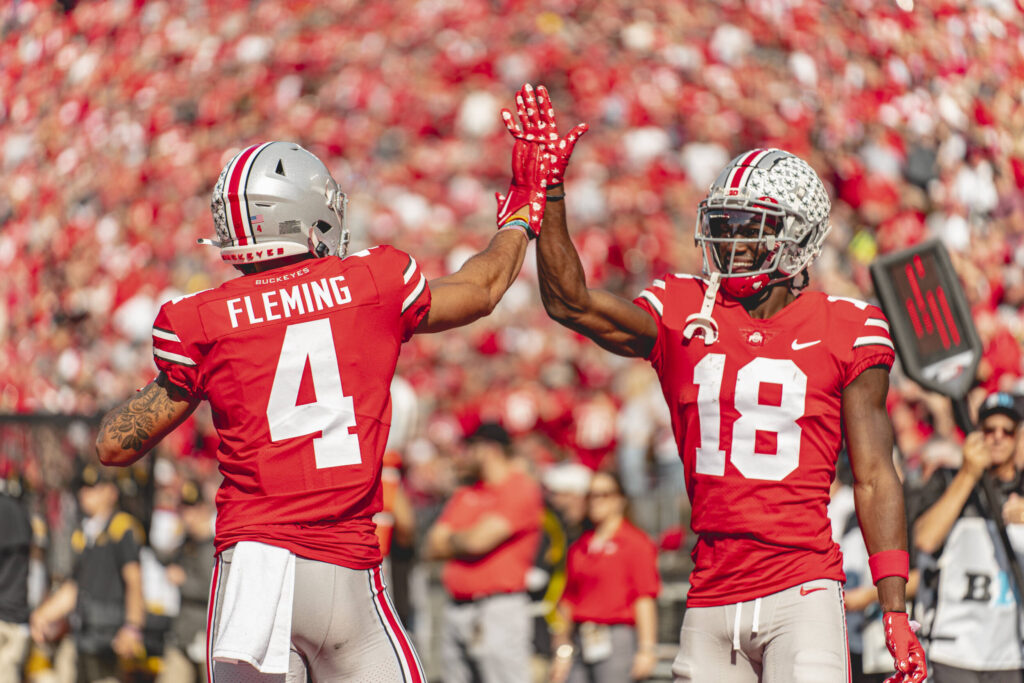 Ohio State football fans are eagerly anticipating the 2023 season, as head coach Ryan Day leads one of the nation's top recruiting classes and a talented offensive lineup, including two highly touted quarterbacks, an explosive receiving corps, and strong running backs. With a solid defense to back them up, the Buckeyes are poised to be one of the nation's elite teams.
As the 2023 college football season approaches, Ohio State fans are elated with the offensive firepower available in Columbus this season. Head coach Ryan Day has built a reputation as an offensive mastermind, and with the talent at his disposal this season, he could be poised to take the Buckeyes to new heights.
At quarterback, Ohio State will have a pair of highly touted prospects battling for the starting job. Kyle McCord, a five-star recruit in the class of 2021, has the edge in experience, having served as CJ Stroud's backup last season. However, Devin Brown, a four-star prospect in the class of 2022, has already impressed coaches and teammates with his arm talent and poise.
Whichever signal-caller emerges as the starter will have a plethora of weapons at his disposal. The Buckeyes boast one of the nation's top receiving corps, led by future NFL draft picks Marvin Harrison Jr. and Emeka Egbuka. Egbuka is a reigning All-Big Ten selection who averaged nearly 16 yards per catch last season, while Harrison Jr. burst onto the scene as a freshman in 2022 Rose Bowl and has been a consistent threat ever since. The son of the Hall of Fame WR is widely considered the best player at his position in the country and one of the top prospects out of college in years.
Rounding out the wide receiver group are talented young players such as Jayden Ballard, Carnell Tate, and Brandon Innis, all of whom were four or five-star recruits in their respective classes. With a deep and talented stable of wideouts, the Buckeyes should be able to stretch the field and keep defenses on their heels.
At running back, Ohio State will rely on a pair of studs in TreVeyon Henderson and Miyan Williams. Henderson was the top-rated running back in the 2021 recruiting class and has already drawn comparisons to former Buckeye great J.K. Dobbins. Williams was also highly recruited and provides a change of pace with his downhill running and strength.
Of course, an explosive offense is only part of the equation for success in college football. Ohio State will need a strong defense as well, and the unit returns several key contributors from last season, including defensive end JT Tuimoloau and cornerback Denzel Burke.
Overall, Ohio State looks poised to make a run at a national championship in 2023. With a talented and experienced coaching staff, a loaded roster of offensive playmakers, and a defense that should be much improved from last year, the Buckeyes should be one of the nation's elite teams. If one of their quarterbacks can step up and lead the offense to its full potential, Ohio State could once again be celebrating a Big Ten title and a trip to the College Football Playoff.