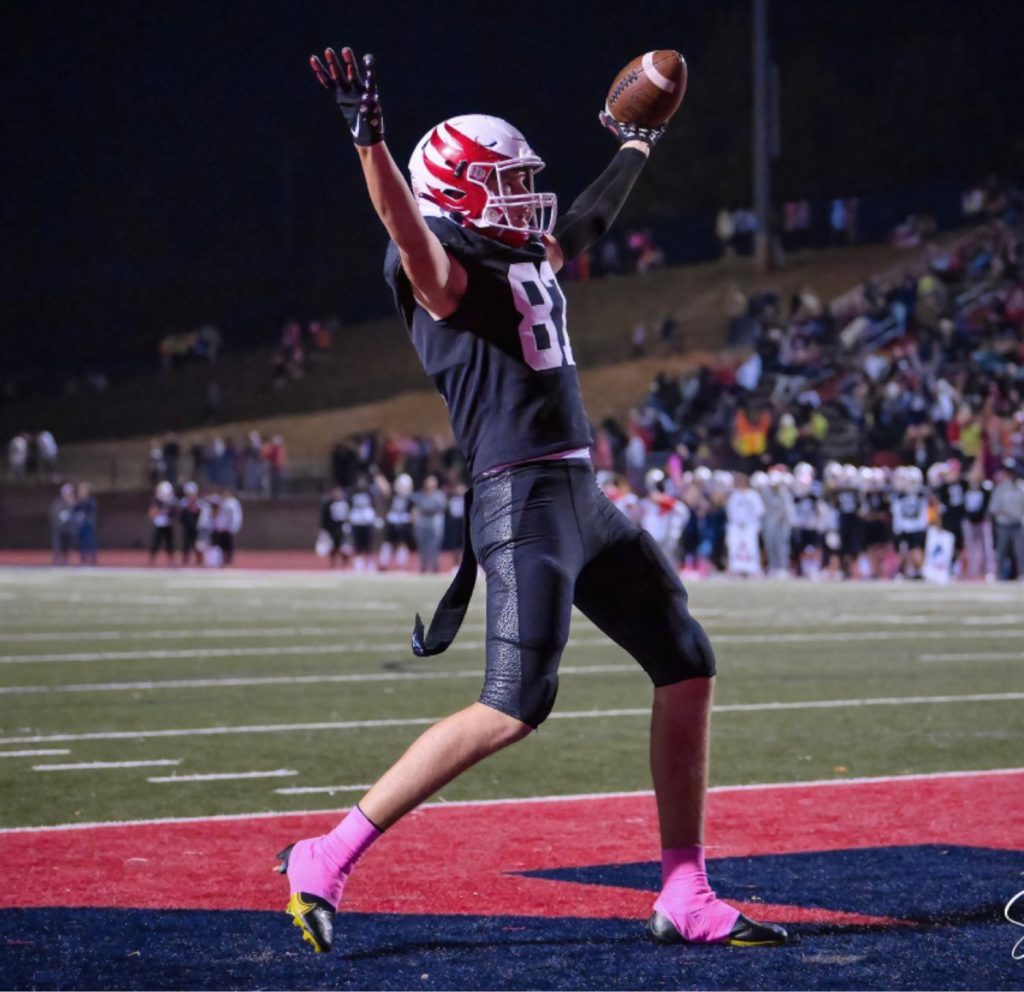 The Ohio State Buckeyes have their eyes on another Georgia tight end, 2025 four-star, Ryan Ghea, one of the top TE's in the 2025 class.
The Buckeyes are beginning to establish a strong presence in Georgia for tights ends. Last recruiting cycle, Ohio State landed four-star Jelani Thurman out of Fairborn, GA. Now, Ryan Day and the Buckeyes look to land another Peach state tight end, 2025 four-star, Ryan Ghea.
Blessed to receive a scholarship offer from The Ohio State University @ryandaytime @OSUCoachKDub @OhioStateFB @OhioStAthletics @Mansell247 @ChadSimmons_ @BHoward_11 @lukewinstel @RWrightRivals @JeremyO_Johnson @MattDeBary @MohrRecruiting @OhioState247 @OhioState @Bill_Kurelic pic.twitter.com/zE1e1CrL9V

— RyanGhea (@RyanGhea2025) June 28, 2022
Ghea has a great relationship with the coaching staff, especially with TE Coach Keenan Bailey, "Coach Bailey and I talk almost weekly, and we have a great relationship." Ghea also has a really strong interest in the Buckeyes saying, "Ohio State is amazing and they produce great tight ends, and have an amazing school, and have a chance to play for a national championship every year."
Thankful to be Ranked a 4⭐️ by @247Sports #8 TE in nation! #21 in Georgia, #155 overall in nation @Mansell247 @DukestheScoop @Andrew_Ivins @SWiltfong247 @gabrieldbrooks @MickWalker247 @AllenTrieu @CoachBenReaves @247recruiting @MiltonEagles_FB 2025 TE @TEwracademy @Slymom261 pic.twitter.com/TahMEPf9GD

— RyanGhea (@RyanGhea2025) April 19, 2023
Although he's being recruited heavily by many top programs, Ghea is taking things slow. "It's still early for me so I haven't really narrowed it down," said Ghea. But a commitment timeline is "after my junior season," so Ohio State and the other elite programs will have plenty of time to recruit Ghea.
Visiting Ohio State Tomorrow @ryandaytime @CoachKee @brianhartline @RyanWrightRNG @adamgorney @Mansell247 @DukestheScoop @ChadSimmons_ @JeremyO_Johnson @Bill_Kurelic @OhioStateFB @OhioStAthletics @MattDeBary @OhioState247 @Zack_Carp @_Pat_Murphy @BillLandis25 @CoachBenReaves #OSU pic.twitter.com/FACunuUjuj

— RyanGhea (@RyanGhea2025) April 2, 2023
The Milton, Georgia tight end has been to Columbus two times and plans on returning in the Summer for a camp. Ohio State is one of many programs pursuing Ghea. The others include Ole Miss, Clemson, Notre Dame, Tennessee, Penn State, North Carolina and more. Ghea would be an excellent addition for the 2025 class for Coach Keenan Bailey.