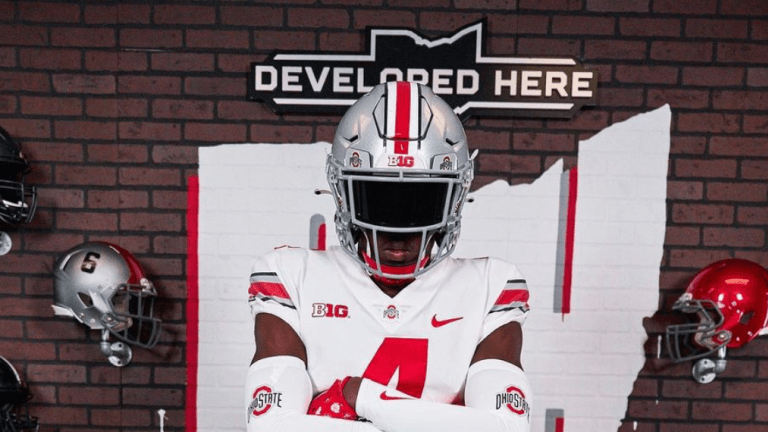 BOOM! This is the official new launch of Bullet Bucks brought to you by The Silver Bulletin. Consider Bullet Bucks to be an Ohio State football fans rumor mill addressing forum. Every year this always seems to be the time in the upcoming recruiting cycles that fans latch on to insiders suggestions or simple rumors. In this forum we acknowledge and asses the validity of the Ohio State rumor mill.
First off, let's talk about something that has been of recent conversation to Buckeye fans with current Ohio State 5-star WR commit Mylan Graham. The No.1 player in the state of Indiana is expected to take visits to Florida and Miami. With that being said, conversation always seems to spiral out of control as it is a committed recruit in the Buckeye class. Should folks consider this a threat or is it simply a top talent enjoying the process? Luckily for the Buckeyes, what many five-star recruits seem to value these days is a proven track record for a positional coach. As most know, Ohio State currently possesses the most successful position coach in the country in both recruiting and development. Without diving into to much more detail on this recruitment, let's simply chalk it up to this: as long as Brian Hartline is the OSU wide receivers coach, you can expect Graham to be a Buckeye.
With that being said, a similar conversation in the past month has risen about the No.2 player in the country and No.1 WR in the nation with Jeremiah Smith. Again, we can ask the question "should Buckeye fans worry about this recruitment"? I can totally understand this one more as Buckeye fans are very familiar with high-end Florida recruits who commit early and end up de-commiting near the end of their recruitment and ultimately spurn the Buckeyes.  However, we can finally say confidently that this one is different. For the same reason as Graham, the Buckeyes have something no other program in the country has in a positional coach, a guy that has produced a first round pick in every year he has been in charge of the position.
I'm just having fun😂

— Jeremiah Smith ✞ (@Jermiah_Smith1) May 15, 2023
That trend is not expected to slow down and a matter of fact it's expected to pick up as the Buckeyes should likely have two more first round receivers go in the 2024 draft with Marvin Harrison Jr. and Emeka Egbuka.
Now on the receiver side it should be seen as all good news for the pair or five stars. Summarily, is there a commitment currently Buckeye fans should be hesitant of? The answer is no at this time, and that's for sure. The Buckeyes have a very tight 2024 class and are likely on pace to end up a top three class in the country. Based on what The Silver Bulletin can gather at this time, the OSU 2024 class is on pace to land the highest ranked offensive class and what will dictate the outcome of their final overall ranking is the defensive haul.
I do have major expectations for Jim Knowles defense this year and believe that will play a major impact in recruiting. At this time I expect the OSU defense to be the strength of the team as the core group seems to be understanding Knowles defense way better following this past spring season. With that being said, I expect Ohio State's defensive recruiting to pick up and ultimately bolster Ohio State to having a top three class in the country in 2024.