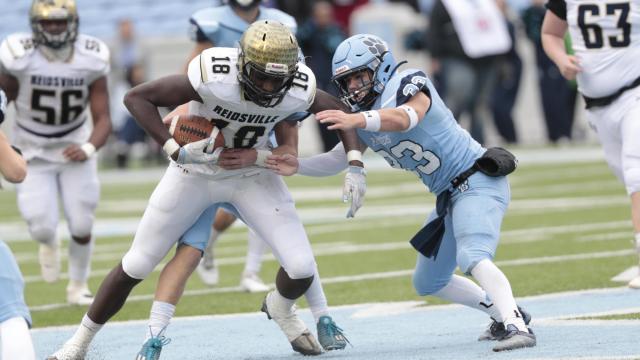 On May 10th, the Buckeyes extended an offer to 2026 TE Kendre Harrison, from Reidsville, North Carolina. Harrison has started to rack up offers from all over the nation, including Alabama, Florida, Georgia, Penn State, and more. He is listed as 6'8 and weighs 230lbs.
BLESSED to receive an offer from THE OHIO STATE UNIVERSITY🙏🏾 #AGTG @CoachKee @N_Murph @RivalsFriedman @On3sports pic.twitter.com/rLyXXsYhof

— k̷e̷n̷d̷r̷e̷'̷ ̷h̷a̷r̷r̷i̷s̷o̷n̷ (@SupremeDre8) May 10, 2023
Before the offer, Harrison's thoughts on Ohio State were positive, "They are a great program, and I know that I will be developed," Harrison said, noting he communicates quite often with Ohio State tight ends coach Keenan Bailey. "My relationship with [Bailey] is starting off strong. He is a chill coach and I feel like over the next three years [the relationship] will get stronger." Now after the offer, Harrison is still positive about the Buckeyes, saying "It means a lot to have an opportunity to play for a great program like Ohio State."
Harrison notes that key factors in his recruitment include "Where I will have the most fun and feel like home, because I love playing the sport I love while having fun." Harrison, still several years away from signing and enrolling with a collegiate program, adds that he does not have any top schools as of right now and is focused on the process and being the best he can be.
6'7 235 TE/DE 4.78-40 pic.twitter.com/ZnKbl9MNVN

— k̷e̷n̷d̷r̷e̷'̷ ̷h̷a̷r̷r̷i̷s̷o̷n̷ (@SupremeDre8) April 12, 2023
It is expected that Harrison ends up a top recruit to watch in the 2026 Class. His size and athleticism is a great factor for his national rise. He also plays basketball. The Buckeyes should be a team in the race for the North Carolina product down the line in this recruitment.