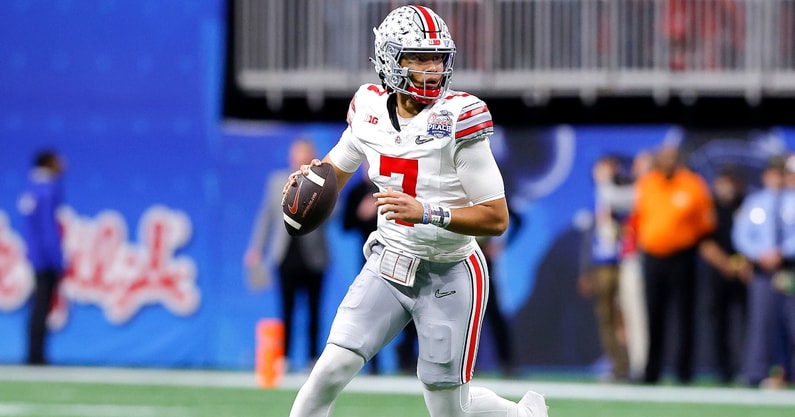 Eight former Ohio State football players will try to make an impression on scouts and general managers this year at the NFL Combine. Here is a look at each player and their situation heading into the workouts.

After an outstanding Ohio State football career C.J. Stroud is assuredly one of the first quarterbacks off the board in the draft and a top-10 pick. However, his performance throwing a football in front of scouts and GMs might determine whether or not he will be the first QB off the board. So, should Stroud throw at the combine or wait until his pro day like Bryce Young will do? It would seem to make more sense to throw in a familiar setting with receivers you are used to instead of throwing in Indianapolis. But 247Sports reported that might be what he is going to do. In any event, short of a bad showing Stroud will be a high draft pick.

Offensive tackle Paris Johnson Jr. is also projected to be a high draft choice. With how he protected Stroud's blind side last year, he could be the first OT off the board with a solid workout.

The third Ohio State football player expected to be chosen in the first round is Jaxon Smith-Njigba. After catching 95 passes for 1,606 yards and nine touchdowns his sophomore season, the main thing NFL teams will be looking for is if he has recovered from the hamstring injury that derailed his 2022 season. With a nice 40-time Smith-Njigba could be chosen in the top half of the first round.

The projections I have seen for the 6ft. 8, 360-pound offensive tackle Dawand Jones is that he is expected to be chosen in the second round but could move up with a good combine. Teams will want to see if a guy that size can move. If he has good performances in speed and agility drills, it could move Jones up to a first-round pick.

The last offensive player is center Luke Wypler who surprised many by declaring for the NFL Draft after only playing three years for the Buckeyes. He played well during his two years as the starting center but might be under the radar now. One would think he would need an excellent workout to impress NFL teams. Being a center is an advantage, though, because teams are always looking for depth on the offensive line. Centers having a history of being able to slide over and fill in for a guard if necessary.
Defensive Representatives  
Switching to defense, I'm anxious to see how Zach Harrison performs at the NFL Combine. GMs like to say they don't put much stock in how players perform in shorts and a T-shirt. However, every year, players shoot up the draft ladder with an outstanding combine. Harrison could be one of those guys this year. The defensive end had an excellent Ohio State football career but never put up the stats you would expect from a five-star recruit. But the former track star might blow everybody away in the speed and agility drills. If he does, expect Harrison to be drafted higher than expected by a GM betting on him becoming an outstanding edge rusher.

Cornerback Cameron Brown definitely has something to prove at the combine. At times, he looked like a lock-down corner but was exposed also on other occasions. Part of his problems last season was because he was dealing with injuries. Hopefully, he is healthy now and has a good workout.

Like Brown, Ronnie Hickman needs to have a good combine. In 2021 he led Ohio State with 98 tackles and intercepted two passes, but last season his totals dropped to 53 tackles and one interception. It's always tricky to gauge how teams are evaluating safeties to translate in the NFL. But if Hickman has a solid combine, I expect him to be drafted somewhere in the middle rounds.