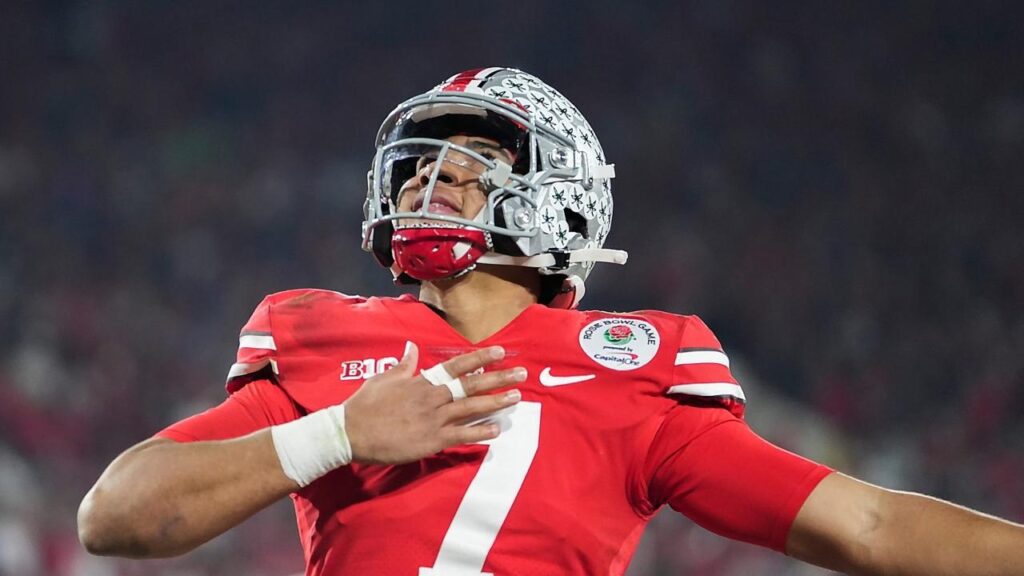 CJ Stroud officially closed his career for Ohio State by declaring for the NFL Draft. How will the QB's legacy be remembered in Columbus?
CJ Stroud, quarterback for the Ohio State football team, announced himself as declared for the 2023 NFL Draft per his social media a few hours ago. Stroud finished his career, having thrown for 8,123 yards and 85 touchdowns. He completed just shy of 70% of his passes at 9.8 yards per attempt with a career passer rating of 182.4. 
The Ohio State football team was at a crossroads heading into the College Football Playoff National Semifinal against Georgia. The Buckeyes had just lost to Michigan for a second straight season, and critics were calling for Ryan Day's job. Wrapped inside all the slander and disbelief is the elite Ohio State quarterback, CJ Stroud. 
Many questioned his toughness, ability to lead and win a big game, as well as his willingness to run the football. Unfortunately, the Buckeyes didn't get it done in Atlanta for a myriad of reasons, notably outside Ohio State's control. Stroud finishes his career without beating Michigan, winning the Big Ten, or a National Championship as he has decided to enter the 2023 NFL Draft. All of this begs the question: what is CJ Stroud's legacy in Columbus? 
Often unfair to the position, especially at a program the caliber of Ohio State, the record is assigned to the quarterback. In CJ Stroud's case, he currently sits No. 2 behind JT Barrett on the school's all-time passing yards list. In his final game in Scarlet and Gray, Stroud played phenomenally against Georgia in the Peach Bowl. But let's take a look at his performance in his biggest games as a Buckeye to truly define his legacy. 
Against Oregon in 2021, Stroud made one of his first starts for the Buckeyes. Sure, he'd like a few plays and throws back against the Ducks. Ohio State's defense was to blame, not CJ Stroud. The Silver Bullets couldn't stop the run, especially on the left edge. Ultimately, the defense's shortcomings and inability to tackle were too much to overcome for the young, talented signal caller. 
Similarly, the same problems ensued in Ann Arbor, where the defense could not slow down a potent ground attack. Stroud didn't play flawlessly, but he did enough to win the game, albeit on the road in wintry conditions. 
Stroud throws a tight spiral with excellent command of the pocket while delivering calculated strikes to his wideouts. Between these two contests, the young quarterback grew into his own. As his shoulder became healthier, so did his precision and accuracy. 
The California native had the privilege to throw to arguably the most talented group of wide receivers in school history. Chris Olave, Garrett Wilson, Jaxon Smith-Njigba, and Marvin Harrison Jr headline the esteemed room. Having elite weapons is enough to make anyone's job easier. But Stroud was an equal part of those equations. 
He will go down as one of, if not the most accurate and pure passers in Ohio State lore. Maybe only behind the late Dwayne Haskins. 
Stroud propelled himself into the 2022 campaign by leading an emotional comeback victory over Utah in last year's Rose Bowl. The contest was an instant classic and served as No. 7's signature win during his tenure. 
CJ Stroud led the Buckeyes to victories over Notre Dame, Iowa, and Penn State this season as he played at the highest level the position saw in the sport. Only this year, Stroud adds himself to the legendary company, becoming the school's only 2-time Heisman Trophy Finalist. Archie Griffin is still Ohio State's and college football's only 2-time Heisman Trophy Winner. 
His legacy boiled down to the College Football Playoff and how he'd perform against Georgia. The narrative was swirling, and the doubt was loud. Yet CJ Stroud delivered a performance for the ages. One game rewrote his story in Columbus and engineered a total change in outlook on the Ohio State QB. I've never seen a singular game impact a player's perception as the Peach Bowl did for CJ Stroud. 
The victorious result was the only missing piece; unfortunately, it's the most important. But Stroud's effort proved he was the nation's best quarterback and should be the consensus No. 1 in this year's NFL Draft. 
Overall, CJ Stroud's legacy will have holes, which he admitted and took ownership of in subsequent press conferences. He is an authentic young man who is unapologetically himself. Stroud openly shares his faith in God and publicly gives the Creator of the Universe glory, honor, and praise before post-game interviews. He never misses that opportunity. 
CJ Stroud should be remembered for his performance against Georgia. That's the level of player he is and the talent he possesses. As a 2-time Big Ten Player and Quarterback of the Year and 2-time First Team All Big Ten, his legacy is in the elite atmosphere. He's overcome adversity his whole life, and his time under center in Columbus was no different. No. 7 will be a great pro and become the franchise quarterback an organization desperately desires. 
Thank you for everything during your time in Columbus, CJ. The Silver Bulletin's staff wishes you the best in the league. God Bless.