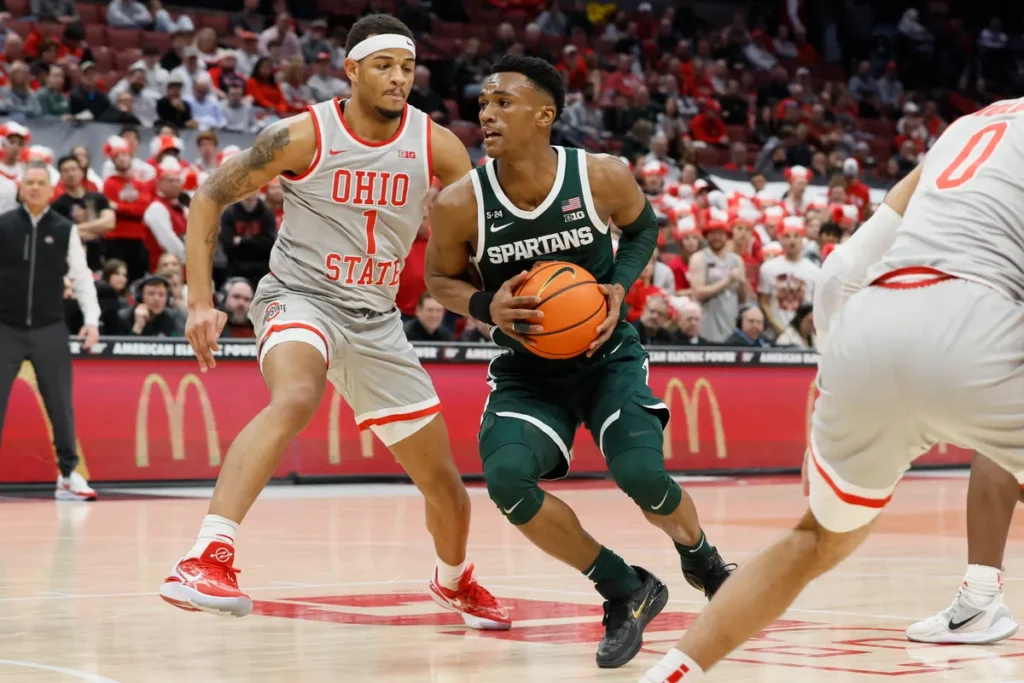 The Ohio State basketball team has improved to 13-17 thanks to a 2-game winning streak. They will wrap up the regular season, before preparing for the conference tournament. They travel to East Lansing for a 12:00 pm ET tip-off against the Spartans, live coverage on ESPN.
Buckeye Preview:
The Buckeyes have put together a nice little two game run against Illinois and Maryland. The Ohio State basketball team's post-season hopes are all but over. However, they still earned two respectable wins. Their efforts handed losses to teams battling for NCAA tournament bids, so spoiler is a nice consolation after a rough season.
Six Buckeyes scored in double figures in the the victory over Maryland. Justice Sueing led the way on Senior-night, he tallied 16 points and 6 boards, going 8-8 from the free throw line. Probably the best performance over the night came from Freshman Felix Okpara, he recorded a double-double with 12 points and 12 boards. He also added 3 blocks, showcasing his skills on both ends. His development is a beautiful sight for Buckeye fans and coaches alike.
Overall, the Ohio State basketball team has no realistic shot at post-season tournaments unless they put together a miracle run in the conference tournament. Riding a two game winning streak headed to East Lansing, let's see if the Buckeyes can stay hot and put together a crazy run. Either way Holtmann needs to continue to see this solid effort until the horn sounds in their final game.
A Look at the Spartans:
The Spartans are 18-11 on the season and sit at 8th in the Big Ten. They are 2-2 since they saw the Buckeyes on February 12th, this includes their wild loss to Iowa in OT.
AJ Hoggard (G)
Tyson Walker (G)
Jaden Akins (G)
Mady Sissoko (C)
Joey Hauser (F)
The Spartans are one of the best teams in the conference at shooting the long ball. Walker, Akins, and Hauser are all shooting 40% or greater from long distance. This is something the Buckeyes have to be attentive to, especially after letting Northwestern hit them with a barrage of triples.
Ultimately, the Spartans are built like any other Izzo team. With great guards, well coached, and deep, they are built to withstand the treacherous Big Ten and grind their way to wins. They were 2-4 in their last six, but still are safely in the tournament conversation. They will need to secure a victory against Ohio State to keep that pace.
Expectations:
The Buckeyes starting lineup (based off last outing):
Brice Sensabaugh (G)
Roddy Gayle (G)
Bruce Thornton (G)
Justice Sueing (F)
Felix Okpara (C)
This 2-game winning streak combined with the fact MSU blew the Buckeyes out last meeting has to give the Buckeyes some confidence and motivation heading into the game. Michigan State certainly has more to play for with NCAA/Conference Tournament seeding on the line, so we'll see which team shows up. One final regular season game after a rough season, might as well ride with the Holt-man!
Score Prediction: 79-77, Ohio State
Featured Image: Jay LaPrete, AP Photo