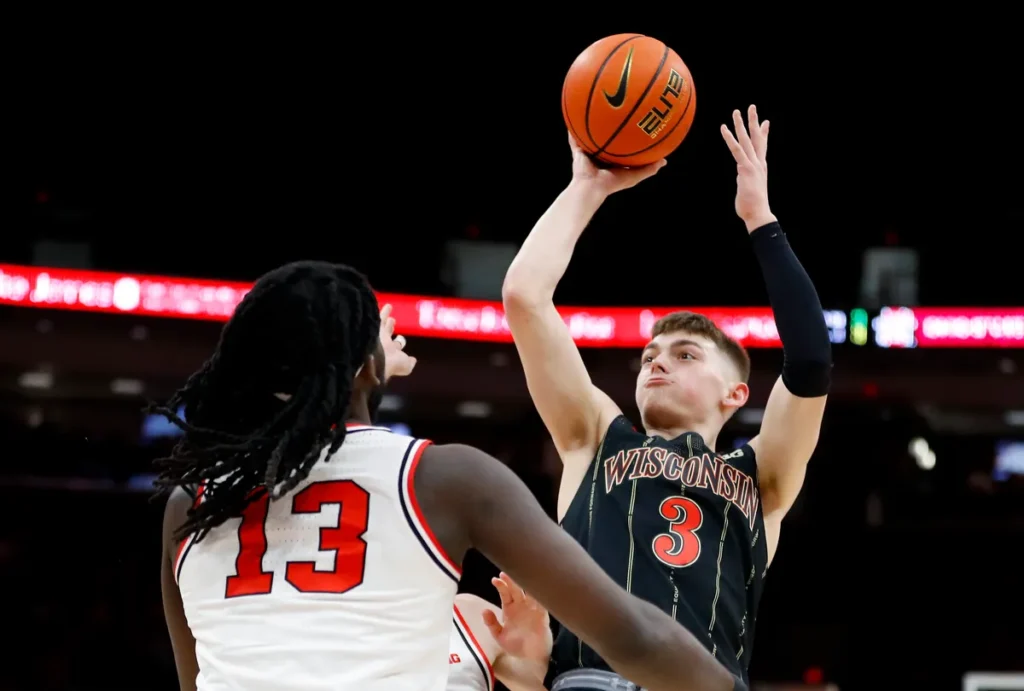 The Ohio State basketball team still has a chance to advance to the NCAA tournament, although the path is brutal. That path is through the Big Ten tournament, in which they would have to win five consecutive games in five days to win and earn an automatic bid. Their first game of the Big Ten Tournament tips off at 6:30 pm ET against Wisconsin on BTN.
Buckeye Preview:
Despite the second half of the season having very few positives for the Buckeyes, they were able to finish "strong." Ohio State went 2-1 over their last three games including wins over very tough Illinois and Maryland. They even put up quite the fight against MSU in East Lansing, but couldn't top Izzo's squad on Senior Day.
This strong play wouldn't have been possible without the likes of this freshman class. Despite an overall disappointing season, the talent and development of the class has been enjoyable. It definitely indicates a bright future for the program, even with the potential loss of Brice Sensabaugh to the NBA.
Speaking of Sensabaugh, he was able to earn All-Freshmen Team honors after an incredible season. He finished with a stat line average of 16.5 points, 5.2 rebounds and 1.2 assists. He shot 48% from the field, 41.5% from deep, and 83% from the free throw line. Brice has lived up to the hype and likely played himself into the 1st round of the NBA draft.
Justice Sueing and Zed Key were also recognized by the conference with All-Big Ten Honorable Mention honors. Each game that the Buckeyes survive is one last chance for Sueing to make a difference, as his eligibility has expired. For Key, his season is already over due to shoulder surgery, so hopes of a strong return for his senior season are all that can be asked for.
This strong finish should give the Buckeyes plenty of momentum and confidence as they fight to save their season. A chance for a miracle run begins today, against the pesky Badgers.
A Look at the Badgers:
The Badgers finished at 17-13 despite going 9-11 in conference play. They didn't finish as strong as the Buckeyes however, going 2-3 in their final five games. They were able to edge out a victory in their final regular season clash against last place Minnesota.
Expected starting lineup:
Max Klesmit (G)
Chucky Hepburn (G)
Connor Essegian (G)
Steven Crowl (F)
Tyler Wahl (F)
After losing National Player of the Year, Big Ten Player of the Year, and First Team All-American guard Johnny Davis, Greg Gard had his work cut out for him. Obviously things were a little rough in conference play going 9-11, but the Badgers still find themselves a short run away from the NCAA tourney bubble.
The Badgers play stingy defense and love the slow grinding pace. They live and die by their starting five and that was evident in their last outing with the Buckeyes. All but two points were scored by their starting group in that meeting.
The leading scorer of the group is Chucky Hepburn, he is scoring 12.2 points dishing out 2.9 assists and earning 1.5 steals. He is a rugged Big Ten guard not afraid to drive to the rack or pull up from any distance. His counterpart is Freshman Connor Essegian averaging 11.9 points and shooting 39% from distance. Max Klesmit is the other guard, he is also a talented scorer and smart ball handling guard.
To round out their starting five are 2 outstanding forwards, Steven Crowl and Tyler Wahl. Both average just over 11 points per game and 6+ rebounds. Standing at 7' and 6'9" respectively, they add size combined with athleticism. They pose a challenge for any team and certainly will again for the Buckeyes, who did contain them a bit in the first meeting, but that was with Key.
Wisconsin needs this win as bad, if not worse than Ohio State, seeing as a slight run does give them a legitimate shot at the tournament. We'll see how this Big Ten battle and tourney opener pans out.
Expectations:
The Buckeyes starting lineup (based off last outing):
Brice Sensabaugh (G)
Roddy Gayle (G)
Bruce Thornton (G)
Justice Sueing (F)
Felix Okpara (C)
The four freshman starting has been an exciting development, they have continued to develop game after game. Today will be their chance to begin a miracle run at saving their season and winning a Big Ten title. They face a tough opponent in Wisconsin, who has defeated them one already, albeit by 5-points. I believe that the Buckeyes will be ready for revenge and will get the job done. I like the Buckeyes to cover the -2 spread.
Score Prediction: 72-67 Ohio State
featured image: Joseph Maiorana, USA Today Sports