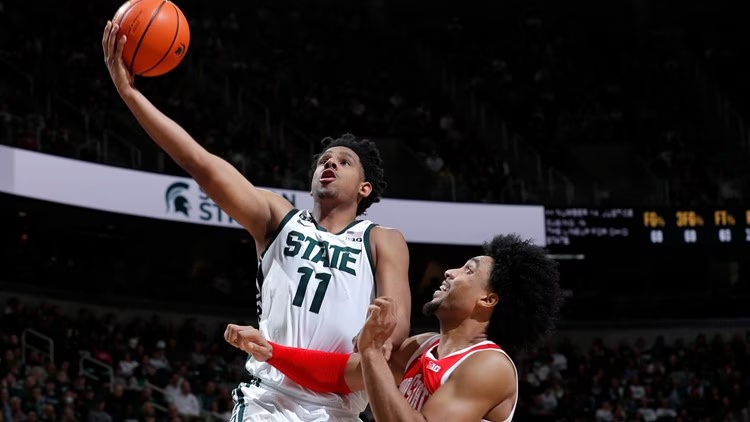 The Ohio State basketball team pulled off a major upset yesterday, knocking off Iowa in a slug fest. With their 2nd victory they advance to the 3rd round of the Big Ten tournament to face Michigan State. Tip-off is slated for approximately 2:30 pm ET on BTN, following the conclusion of Rutgers vs Purdue.
Buckeye Preview:
The Buckeyes continued their solid play into the second round of the Big Ten tourney. They went back and forth with Iowa for the full 40 minutes, and it was truly a Big Ten battle for the ages. The Buckeyes aggressive defensive and shot contests led to a narrow 1-point lead at the half. The offense was more free flowing on both sides in the 2nd period, but the deciding factor was a 50/50 loose ball recovery by Ohio State that led to the game sealing free throws.
The upperclassmen in Justice Sueing and Sean McNeil continued their success from round one. McNeil stayed hot, knocking down three baskets from deep on his way to 13 points, while also dishing out three assists. Sueing was phenomenal again, knocking down a 3 from the wing late in the 2nd half and diving on a loose ball that would lead to the game winning free throws. He added 14 points, 2 blocks, and a steal. It seems clear that these two veterans don't want to see their collegiate careers end just yet. 
Bruce Thornton also continued to show why he is the future of the program and why he was named captain late in the season. He scored 17 points, recorded 6 assists, and earned 2 steals. He has now recorded double figures in 9 of his last 11 games. Fellow freshman Brice Sensabaugh added 16 huge points as well. He also recorded a block and a steal. But, the true freshman hero of the day was Roddy Gayle. He recorded all 9 of his points in the final 8 minutes of play, including a massive 3. His defense has been there all season, but we finally saw his scoring potential break through.
If the miracle run toward a Big Ten Tournament Championship is to continue this tenacious defense and brilliant teamwork must continue.
A Look at the Spartans:
The Spartans are 19-11 on the season and earned the double bye by finishing 4th in the conference. Their last game was a narrow 6-point victory over these same Buckeyes in East Lansing last Sunday on Senior Day.
AJ Hoggard (G)
Tyson Walker (G)
Jaden Akins (G)
Mady Sissoko (C)
Joey Hauser (F)
The Spartans are one of the best teams in the conference at shooting the long ball. Walker, Akins, and Hauser are all shooting 40% or greater from long distance. This is something the Buckeyes have to be attentive to, especially after letting Northwestern hit them with a barrage of triples.
Ultimately, the Spartans are built like any other Izzo team. With great guards, well coached, and deep, they are built to withstand the treacherous Big Ten and grind their way to wins. They are coming off a win over the Buckeyes, but that doesn't guarantee the same outcome today.
Expectations:
The Buckeyes starting lineup (based off last outing):
Brice Sensabaugh (G)
Roddy Gayle (G)
Bruce Thornton (G)
Justice Sueing (F)
Felix Okpara (C)
The four freshman starting has been an exciting development, they have continued to develop game after game. The Buckeyes know their recipe to success at this point and have taken down 2 tough opponents who have thrown some big punches. Although the season series has been 0-2 in favor of Michigan State, this Ohio State team is hot while their opponent has sat watching. After losing by just 6 Sunday, I think this Buckeye team is ready for redemption. I believe the Buckeyes will live to fight another day.
Score Prediction: 81-78, Ohio State
featured image: Al Goldis, AP Photo