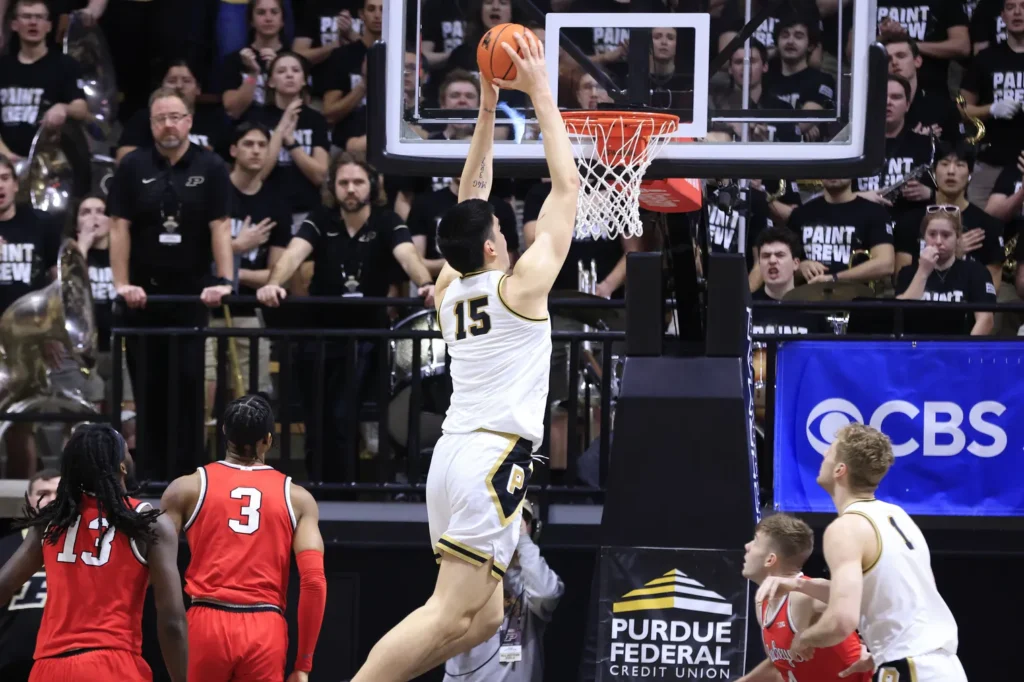 The Ohio State basketball team pulled off their biggest upset yet, defeating Michigan State without Brice Sensabaugh. Their Cinderella run continues with a 4th round matchup against Purdue. Tip-off is set for 1:00 pm ET on CBS, with the Buckeyes as 7.5 underdogs.
Buckeye Preview:
The Buckeyes continued their solid play into the third round of the Big Ten tourney. They smothered the Spartans in the first half, holding them to 24 points and taking a 9-point lead. An early surge to begin the 2nd half saw Michigan State climb to within 2 at 36-34, but the Buckeyes refused to blow the lead. They would both extend and hold onto a double figure margin, winning 68-58.
The upperclassmen in Justice Sueing and Sean McNeil continued their success from round 3,  showing they aren't ready to be done. Sean McNeil only contributed 5 points, but he grabbed 6 boards, and 3 assists. The most important assist being a wild save and baseball outlet pass that led to an easy Thornton layup. Justice was phenomenal again, knocking down a season high 4 3-point attempts and giving the team 14 points.
Bruce Thornton also continued to show why he is the future of the program and was named captain late in the season. He scored 21 points, recorded 6 assists, earned a steal, and recorded 2 blocks. He has now recorded double figures in 10 of his last 12 games. Roddy Gayle also had himself another massive day giving the team 15 points, including going 3/3 from downtown. He also added a steal and a block. Last but certainly not least was Felix Okpara, he has made himself a dominate force on both ends of the court. He added 8 points including an alley-oop slam, he also grabbed 8 boards and tallied 5 massive blocks.
If the miracle run toward a Big Ten Tournament Championship is to continue the tenacious defense and brilliant teamwork must continue.
A Look at the Boilermakers:
The Boilermakers are 27-5 and absolutely dominated the Big Ten, earning themselves the 1-seed. They've defeated Ohio State twice already this season, a close game in Columbus and a blow in West Lafayette.
The projected lineup:
Braden Smith (G)
Fletcher Loyer (G)
Brandon Newman (G)
Mason Gillis (F)
Zach Edey (C)
Seemingly every year Matt Painter puts together a squad that dominates in the Big Ten and could compete for a National Championship. This year is no different, as Painter and his team have been rolling. They shook off the rust quite well with a gritty win over Rutgers.
The pillar of this team is none other than the physical specimen, Zach Edey. He is literally the pillar of the team, standing 7'4" and 285 lbs, and is a dominant presence on both ends of the floor. He is averaging a double-double with 21.7 points and 12.8 rebounds. His success and dominance typically lead this team to wins. Slowing him down is surely the number one goal on any opposing scouting report.
True freshman Fletcher Loyer has burst onto the scene for Purdue. He is the second leading scorer at 11.4 points per game. Aside from Loyer and Edey the rest of the scoring is a collective effort, as Painter's teams often are. Although, Braden Smith has done a good job adding nearly 10 points per game as his freshman campaign has continued. Mason Gillis and Brandon Newman were coming off the bench, but their scoring efforts have been so beneficial they moved to starting roles.
Expectations:
The Buckeyes starting lineup (based off last outing):
Sean McNeil (G)
Roddy Gayle (G)
Bruce Thornton (G)
Justice Sueing (F)
Felix Okpara (C)
Status of true-freshman Brice Sensabaugh is still unclear, he missed the 3rd round game with "knee soreness".
The Buckeyes know their recipe to success at this point and have won 3 days in a row. The question is, will Purdue prove too tall of a task? I think the Buckeyes will certainly be gassed heading into today's game. But they know what's at stake and Holtmann's squad is clicking on all cylinders. They've come this far, why should it be over now. I think the Cinderella story continues with another Buckeye upset. I'll take the Buckeyes in a slug fest.
Score Prediction: 60-57, Ohio State
Featured Image: Justin Casterline, Getty Images