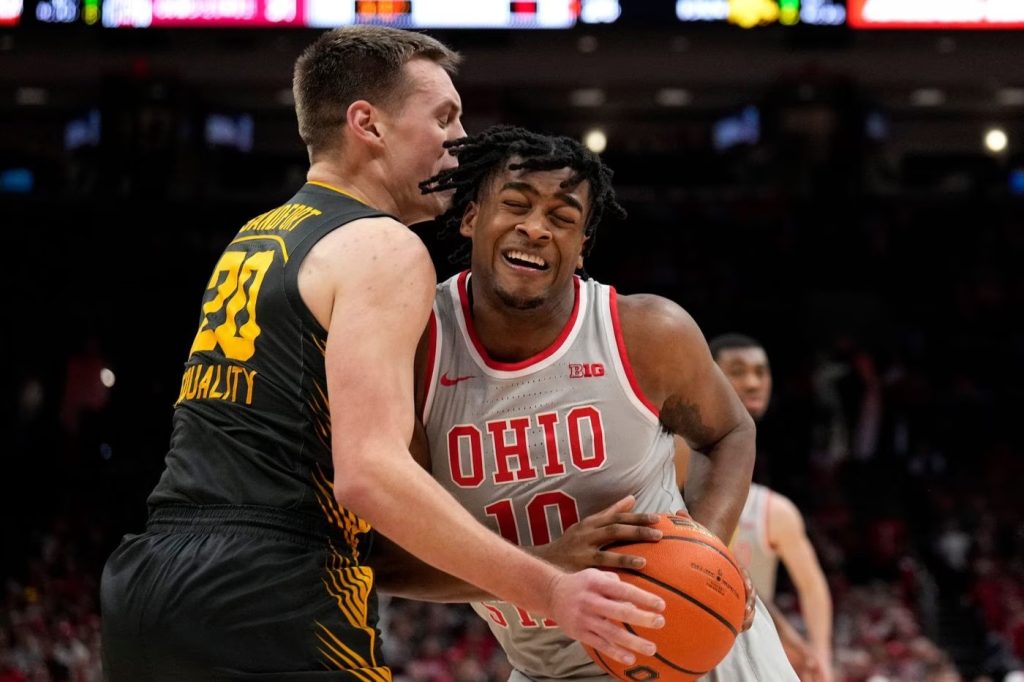 The Ohio State basketball team is still alive after an action-packed win over Wisconsin. There is still lots of work to be done to have a shot at post-season play, but it is one game at a time. They will face the Iowa Hawkeyes in round 2 of the Big Ten Tournament today at 2:30 pm ET on Big Ten Network.
Buckeye Preview:
The Buckeyes continued their solid play into the first round of the Big Ten tourney. They shot out of the gates taking a halftime lead over the Badgers by the score of 36-18. They would expand the lead to as many as 27 early in the 2nd half, but Wisconsin wouldn't lie down easily. With just over 10 minutes to play and trailing by 22 the Badgers went on a 9-minute run to pull within 6 with just over a minute to play. Luckily the Buckeyes were able to stave off the comeback attempt and win 65-57.
Bruce Thornton continues to show why he was Mr. Basketball in the State of Georgia and how he is the future of the program. After tallying 15 points he has now recorded double figures in 8 of his last 10 games. He also recorded 2 assists and 2 steals. Fellow Freshman Brice Sensabaugh only had 9 points, well under his season average, but his presence was still felt. He snagged 11 rebounds, 2 of them offensive and played a very solid defensive game even recording a block.
The ever valuable upperclassmen in Justice Sueing and Sean McNeil also put in work. Justice added 16 points and 5 rebounds with some clutch free throws made down the stretch. Sean added 17 points going 6 of 8 from the floor, most of his points coming during Ohio State's early jump into the lead.
If the miracle run toward a Big Ten Tournament Championship is to continue the play of these 4 guys will be the driving force.
A Look at the Hawkeyes:
The Hawkeyes finished their regular season with a record of 19-12 earning them the 7th seed in the conference tournament. However, they enter on a 1-game losing streak, falling to Nebraska in their final game.
The projected lineup:
Connor McCaffery (G)
Aaron Uhlis (G)
Tony Perkins (G)
Kris Murray (F)
Filip Rebraca (F)
The Hawkeyes are led by Kris Murray who has developed immensely since last season. He is averaging 20.5 points and 8 rebounds and 1.9 assists per game. He is able to post up, hit the mid range, and even step out and knock down from distance. He put up 22 and 20 points in their matchups with Ohio State this season, so clearly the Buckeyes struggle to slow him.
Filip Rebraca and Tony Perkins are also double-digit scorers in the starting lineup. But, the scoring doesn't stop with the starters, Iowa has a plethora of players who can light it up off the bench, including Payton Sandfort and Patrick McCaffery, both sharp shooters who can get hot in a hurry.
The Hawkeyes are a tough group, they shoot well from distance and can score in bunches. The season series was split at 1-1, so the grudge match will ensue today.
Expectations:
The Buckeyes starting lineup (based off last outing):
Brice Sensabaugh (G)
Roddy Gayle (G)
Bruce Thornton (G)
Justice Sueing (F)
Felix Okpara (C)
The four freshman starting has been an exciting development, they have continued to develop game after game. The Buckeyes need to build off their performance last night, trying to replicate the 1st half for a fill 40 minutes. The team we saw over the first 3/4 of the game could win a Big Ten tournament title, the final 10, not so much. The question will be, which team do we get. Let's continue riding the high and hoping for a miracle.
Score Prediction: 78-72 Ohio State
Featured Image: Joseph Scheller, Columbus Dispatch, USA Today Sports