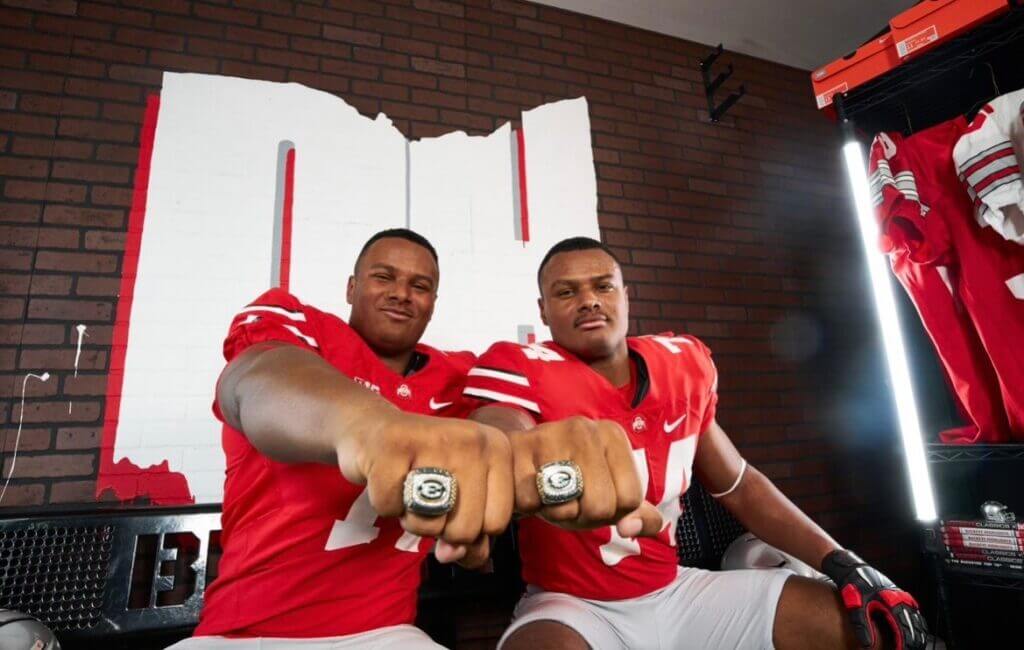 The Buckeyes have just landed a massive pair of commitments from local four star in state offensive linemen Deontae and Devontae Armstrong. The "twin towers" duo resides out of Lakewood, Ohio and comes to the Buckeyes as a package a deal. Although the two are twins they both will bring their own unique set of skills to Columbus.
BREAKING: Four-Star OT Deontae Armstrong tells me he has Committed to Ohio State!

The 6'7 285 OT from Lakewood, OH chose the Buckeyes over Michigan, Georgia, and Penn State.

"The saying still stands…the best in Ohio, stay in Ohio. I'm coming home." https://t.co/wSmGTNQ2Ec pic.twitter.com/wLEpjUraCd

— Hayes Fawcett (@Hayesfawcett3) March 27, 2023
Starting with Deontae, he will likely be playing on the outside when his time comes in Columbus. As a junior, Deontae already stands at 6-foot-6, 280-pounds and comes with a lot of raw talent. Deontae will be expected to be placed in a similar development process as Dawand Jones. It's not so much the enormous size that Jones possessed but more so the fact that Deontae is expected to grow into his frame and has elite strength and length that make a great tackle. His footwork comes a little raw (similar to Jones), but both came from a basketball background which should help make a fast college transition.
Jumping over to Devontae, the four star interior offensive lineman will likely play alongside his brother at the next level on the inside. Devontae is a bout an inch shorter than his brother but comes in about 10 pounds heavier. At 6-foot-5, 290-pounds there is a lot to like about Devontae who is going to be on the rise coming into his senior season. Much like his brother, the Ohio State staff has zeroed in on the pure raw strength of two brothers. Very often Devontae can be seen on tape driving through his opponents and finishing plays with the opposing player left in the dirt.
There's a lot to like about this dynamic set of brothers and it comes as no surprise that offensive line coach Justin Frye was able to secure commitments from the duo as they grew up cheering for the scarlet and gray. The pair of commits adds to the class of 2024 and moves this group into the top 10 nationally. It's a great addition that keeps two of the states top talents in Columbus.
The Armstrong's now join Toledo Central Catholic three-star Marc Nave and New Palestine (Indiana) four-star Ian Moore as offensive line commits in the Ohio State 2024 class.