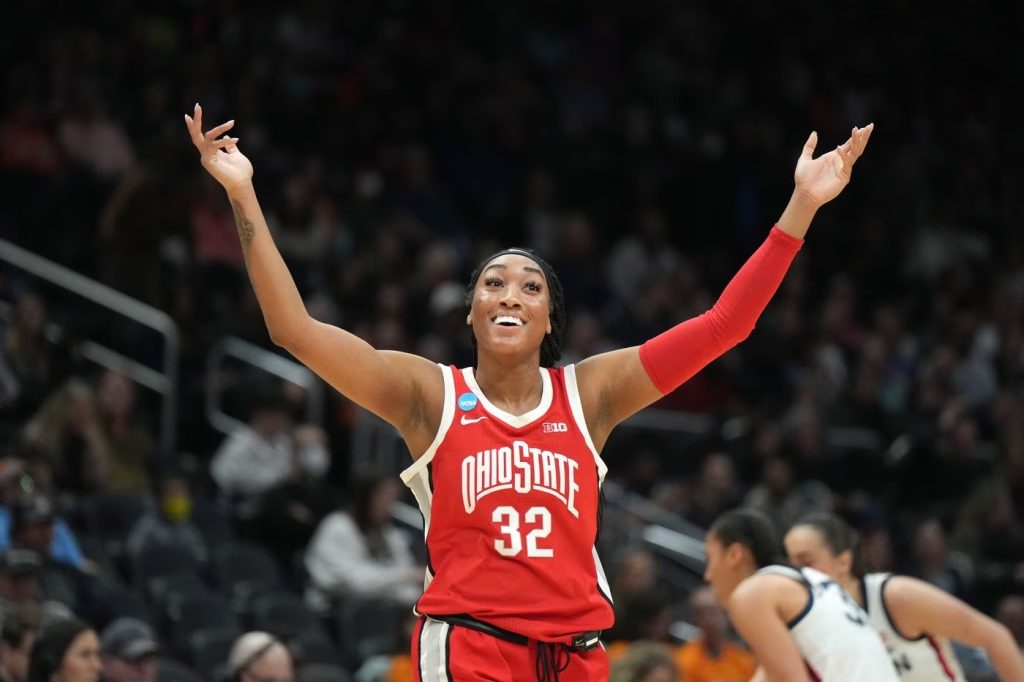 The Ohio State Women's basketball team toppled the mighty UConn Women's program, ending their 16 year run of Elite 8 appearances. The Buckeyes will square off with 1-seed Virginia Tech this evening. Tip-off is scheduled for 9:00 pm ET on ESPN live from Climate Pledge Arena in Seattle.
Buckeye Preview:
The Buckeyes not only covered the 10-point spread they were receiving as the underdog, but actually dominated the Huskies. They were able to win by the score of 73-61, thanks to an strong second quarter where the Buckeyes outscored UConn 21-9. This early edge held up throughout the second half and propelled Ohio State to the next round.
Jacy Sheldon continues to be a valuable asset to the Buckeyes, with the senior giving her team a proficient performance. On the day, she recorded 17 points, 7 rebounds and 5 assists. Her scoring and leadership has been invaluable since coming back from injury and will continue to be so.
However, the driving force behind this upset was none other than star freshman Cotie McMahon. After a modest 14 point performance against UNC, McMahon exploded for 23 against the Huskies. She knocked down two shots from long distance on her way to an 8 for 17 shooting performance. Combining her young talents with the veteran play has been a key to success for head coach Kevin McGuff. She will surely be looked to for more touches against Virginia Tech.
The Buckeyes led by McGuff certainly have the confidence and skill to achieve another upset. We'll see if they can burst another bubble against a potentially even tougher opponent.
A Look at the Hokies:
The Huskies finished at 30-4 on the season and still found themselves finishing 2nd in a tightly contested ACC. They have won their first three tournament games pretty comfortably, including defeating 4-seed Tennessee by nine on Saturday.
The projected lineup:
Georgia Amoore (G)
Kayana Traylor (G)
Cayla King (G)
Taylor Soule (F)
Elizabeth Kitley (C)
The Hokies are led in scoring by Kitley, who is an 18 point and 10.7 rebounds per Game Center. She stands at 6'6" and will surely be a focal point of the Hokie offense. Comparably Ohio State is very undersized, so limiting Kitley's touches and success will be a huge factor in the outcome.
The Hokies have done two things particularly well through their first 3 games of the tournament. They have shot the 3 ball well, especially Amoore, and played stout defense. These are their calling cards and it matches up well with an Ohio State group that also loves to play defense and force turnovers.
Expectations:
The Buckeyes starting lineup (based off last outing):
Jacy Sheldon (G)
Taylor Mikesell (G)
Taylor Thierry (G)
Cotie McMahon (F)
Eboni Walker (F)
The Buckeyes road to a title doesn't get any easier as they square up with the red hot Hokies, winners of 14 straight. However, if McGuff can keep his squad playing consistent basketball who is to say they aren't deserving of a Final Four opportunity. If they attack with same tenacity from the UNC and UCONN games the Buckeyes should advance. I'll ride with wave and say that 3-point line means nothing, Buckeyes by 2 scores.
Score Prediction: 65-61, Ohio State
featured image: Kirby Lee, USA Today Sports