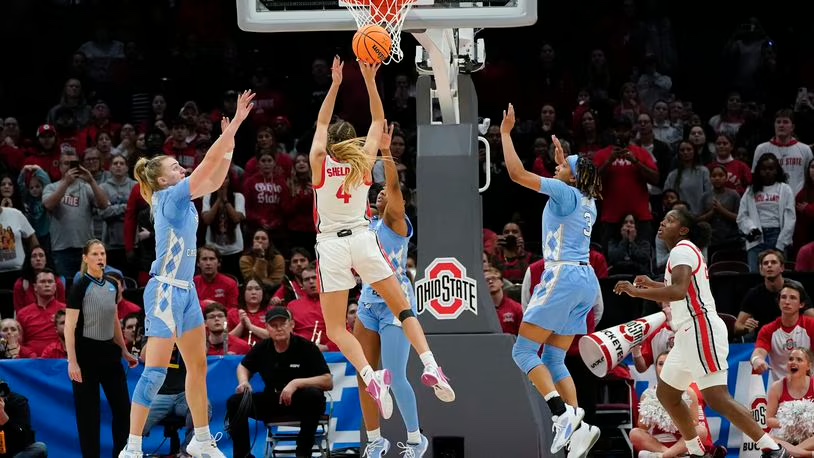 The Ohio State Women's basketball team is looking to advance to the Elite 8 with a win today. They will square off with the historically elite program that is UCONN Women's. Tip off is scheduled for 4:00 pm ET on ABC live from Climate Pledge Arena in Seattle.
Buckeye Preview:
The Buckeyes survived a thriller in the Round of 32 against North Carolina, advancing by a score of 71-69. This victory was sealed thanks to a beautiful floater by Jacy Sheldon with just seconds remaining.
Jacy missed a large portion of the season with an injury, but her return has been vital to this Buckeye run. She recorded 16 points, 6 rebounds, and 5 assists, while also recording 2 steals. The Buckeyes need their Senior guard to continue her gritty play if they are to upset the Huskies.
Two other key pieces to the Buckeyes' success are Taylor Mikesell and Cotie McMahon. Mikesell  is also a Senior guard for the Buckeyes that averages 17.2 points per game, shooting over 42% from the floor. She is a certified bucket getter and is capable of generating points in any situation. As far as Cotie McMahon goes, she has been an absolute monster in her Freshman campaign. Coming out of Laurel school in Cleveland Heights, Ohio, the 6' Forward is averaging 14.8 points per game. She is shooting over 50% from the field and has shown her ability to defend as well.
The Buckeyes led by Coach McGuff certainly have the firepower and talent to defeat UCONN, but it's just about remaining consistent. They have shown the tendency to struggle for a quarter here or there, that can't happen against such a powerhouse. McGuff will certainly have the team ready to go come tip.
A Look at the Huskies:
The Huskies finished at 31-5 on the season, capping off yet another great team led by Auriemma. They look to advance to their 17th consecutive Elite 8.
The projected lineup:
Nika Muhl (G)
Azzi Fudd (G)
Lou Lopez Senechal (G)
Aaliyah Edwards (F)
Dorka Juhasz (F)
The big storyline here is obviously former Ohio State Buckeye Dorka Juhasz and her success with the Huskies. After success with the Buckeyes including All-Big Ten honors, she has gone on to average 15.2 points and 9.9 rebounds per game under Auriemma. She will be a force the Buckeyes will surely need to slow.
The leading scorer for the Huskies is also an international star, Aaliyah Edwards from Kingston, Ontario. She is averaging 17 points 9 boards and 2.5 assists, all while shooting 58% from the floor. She is a dynamic Forward that will be a tough cover for any of the Buckeye defenders.
The Huskies have high expectations for themselves and by the national media, coming in as a 10-point favorite.
Expectations:
The Buckeyes starting lineup (based off last outing):
Jacy Sheldon (G)
Taylor Mikesell (G)
Taylor Thierry (G)
Cotie McMahon (F)
Eboni Walker (F)
Although, the Buckeyes are looking to end an Elite 8 drought dating back to 1993, they've drawn a tough matchup. With the Huskies looked to advance to the Elite 8, which has been an automatic the past 16 years, near perfection will be needed. I'm sure McGuff's group will play their hearts out and give their all, but they may not have enough juice to topple this giant.
Score Prediction: 75-67, UCONN
Featured Image: AP Photo