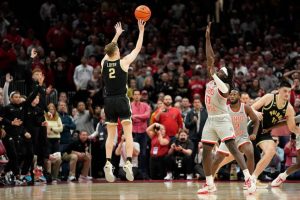 The Ohio State basketball program has fallen to 11-15 on the season after getting blown out in Iowa City. The close of the season gets no easier as they now must face No. 3 Purdue on the road. Tip-off is set for 1:00 pm ET on CBS, live from Mackey Arena.
Buckeye Preview:
The Buckeyes put together a more well-rounded offensive game this past Thursday, tallying 75 points. However, they were facing one of the Big Ten's worst scoring defenses and proceeded to give up 92.
The offensive success was led by West Virginia transfer Sean McNeil. He was lights out from the field going 7-7 and 4-4 from deep, accounting for 20 points. Brice Sensabaugh also saw his shooting slump end as he gave the Buckeyes 16 points on 6/11 from the field. The only other double figure scorer was Thornton, who has played very well lately.
Overall, the trend for the Buckeyes continues to be their inability to play a complete game. What I mean by that is every aspect they are locked in and executing for a full 40 minutes. This game the defense was a weakness, they allowed 10 3-pointers and a 57% field goal percentage. They were also out-rebounded and had double the turnovers of their opponent.
This type of sloppy, inconsistent play is the reason for this long losing streak. The only way it can end is if the Buckeyes can figure out how to lock in for 40 minutes. The odds that this happens on the road, against a solid Purdue team, is highly unlikely.
A Look at the Boilermakers:
The Boilermakers are 23-4 and lead the Big Ten with around 5 regular season games remaining. They are coming off a tough road loss to Maryland this past Thursday. So they will be looking to get back in the win column.
The projected lineup:
Braden Smith (G)
Fletcher Loyer (G)
Ethan Morton (G)
Caleb Furst (F)
Zach Edey (C)
Seemingly every year Matt Painter puts together a squad that dominates in the Big Ten and could compete for a National Championship. This year is no different, as Painter and his team have been rolling, aside from their recent speedbump on Monday.
The pillar of this team is none other than the physical specimen, Zach Edey. He is literally the pillar of the team, standing 7'4" and 285 lbs, and is a dominant presence on both ends of the floor. He is averaging a double-double with 22 points and 12.8 rebounds. His success and dominance typically lead this team to wins. Slowing him down is surely the number one goal on any opposing scouting report.
True freshman Fletcher Loyer has burst onto the scene for Purdue. He is the second leading scorer at 12 points per game and knocks down nearly 40% of his 3 point attempts. Aside from Loyer and Edey the rest of the scoring is a collective effort, as Painter's teams often are. Mason Gillis and Brandon Newman are able to come off the bench and go get a bucket.
The Boilermakers will hope to get back on track, likely playing with a chip on their shoulder after getting upset at home on Monday.
Expectations:
The Buckeyes starting lineup (based off last outing):
Roddy Gayle (G)
Brice Sensabaugh (G)
Bruce Thornton (G)
Justice Sueing (F)
Zed Key (C)
Ohio State is rightfully an 11.5 road underdog, although they played Purdue close in their previous matchup. This is a very different Ohio State than that earlier matchup, they have no momentum and no positives carrying them. While Purdue is coming off a loss and looking to bounce back strong. I am sure they'll jump on the Buckeyes in a hurry, this game will likely be over by half.
Final: 82-68, Purdue
Featured Image: Adam Cairns, Columbus Dispatch, USA Today