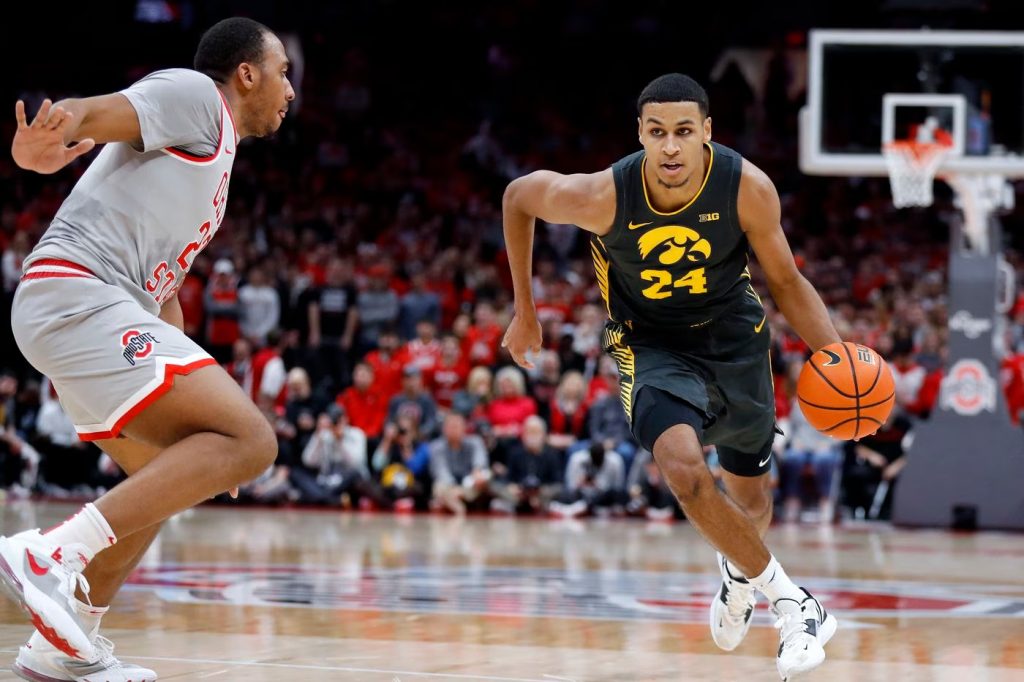 The Ohio State basketball program is not in a good place at this point in the season. After getting destroyed by Michigan State at home, they fell to 11-14. They will again be searching for a win as they head to Iowa City. Tip-off is slated for 9:00 pm ET on ESPN2.
Buckeye Preview:
The Buckeyes should be pretty disappointed in the effort they put forth for the home fans on Sunday. They could only muster up 14 points in the first half and ultimately finished with 41. This lack of offense resulted in a 21 point loss to the Michigan State Spartans.
Throughout the game, it felt like the Buckeyes didn't ever have a chance. They truly couldn't do anything right over the course of 40 minutes. As a team they shot 28% from the field, going 17/60 while they only made 6/29 attempts from downtown (21%). The Buckeyes also were only able to generate 2 free throws, 1 of which they missed. They also allowed 16 points off their 10 turnovers and were dominated 26-12 inside the paint.
If you were to find one lone bright spot it would be freshman point guard Bruce Thornton. After struggling for much of the new year it does seem like he's broken through a freshman slump. He was able to contribute 9 points, 5 rebounds, 2 assists and a steal, while only committing one turnover.
The freshmen class has really been trying their best to contribute. But it is a big ask for inexperienced players like Roddy Gayle and Felix Okpara who still have some developing to do, to provide major contributions at this point in Big Ten conference play. We are even seeing star freshman Brice Sensabaugh, who could find himself as an NBA Draft selection after this season, hit a wall of his own. As Big Ten teams have become more aware of his raw talent his ability to get easy buckets has disappeared. As Chris Holtmann alluded to, teams are locking him up better with more elite defenders.
At the end of the day, young team and fresh faces aside, the on-court performance has been abysmal in 2023. This team needs to rally together for some kind of late season push. If not to earn a respectable record, then to prove their willingness to fight until the end.
A Look at the Hawkeyes:
The Hawkeyes are 16-9 and sit in sixth place in the Big Ten. They are 7-3 in their last 10 and have been one of the more consistent teams within the conference. They are coming off a 12-point victory over Minnesota this past Sunday.
The projected lineup:
Connor McCaffery (G)
Aaron Uhlis (G)
Tony Perkins (G)
Kris Murray (F)
Filip Rebraca (F)
The Hawkeyes are led by Kris Murray who is the second leading scorer in the Big Ten. He is averaging 21 points and 8.5 rebounds per game. He is able to post up, hit the mid range, and even step out and knock down from distance. He put up 22 points in their loss to Ohio State previously, so clearly the Buckeyes struggle to slow him.
Filip Rebraca and Tony Perkins are also double-digit scorers in the starting lineup. But, the scoring doesn't stop with the starters, Iowa has a plethora of players who can light it up off the bench, including Payton Sandfort and Patrick McCaffery, both sharp shooters who can get hot in a hurry.
The Hawkeyes are a tough task on their home court, going 12-2 so far this season. The Buckeyes are surely in for an uphill battle, likely in front of a packed house.
Expectations:
The Buckeyes starting lineup (based off last outing):
Roddy Gayle (G)
Brice Sensabaugh (G)
Bruce Thornton (G)
Justice Sueing (F)
Zed Key (C)
Chris Holtmann continues to jumble the starting rotation, trying desperately to coach his teams to win and get the offense going.
Ohio State is rightfully a 7.5 point road underdog, although they defeated this Hawkeye team earlier in the season. I don't see the Buckeyes repeating that previously dominate performance, I expect another ugly night for the Buckeyes.
Score Prediction: 82-68, Iowa
featured image: Joseph Maiorana, USA Today