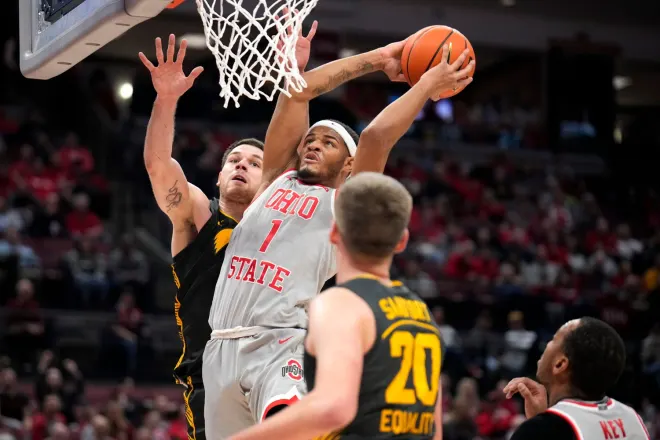 The Ohio State Buckeyes were able to move to 11-8 following a convincing win over Iowa on Saturday. This win snapped a five-game losing skid and hopefully got things rolling in the right direction again. However, a trip to Champaign to face the Illinois Fighting Illini is on tap. Tip-off is set for 7:00 pm ET tonight on ESPN.
Buckeye Preview:
The Buckeyes were able to earn a much-needed win and avoided dropping a sixth consecutive conference game. They defeated Iowa by a score of 93-77, thanks to some emphatic performances.
Brice Sensabaugh was sensational this weekend, with his play earning him his 4th Big Ten Freshmen of the Week award. He led all scorers with 27 points, going 10-12 from the floor and making four 3-point buckets.
Roddy Gayle also had an impact performance as he made his first start of his career. Due to the uncertainty surrounding Sean McNeil and his dental emergency, Gayle slid into the starting rotation. He made the most of his 17 minutes, giving the Buckeyes 9 points and a solid defensive effort. His highlight play was a back door cut leading to a double clutch dunk.
Lastly was Isaac Likekele, who put together his best and most valuable performance as a Buckeye. The transfer guard from Oklahoma State nearly tallied a triple-double. He gave the Bucks a season high 18 points, to go along with 10 boards, and 7 assists.
Overall, this was a much-needed win for the Buckeyes against an Iowa team that came in hot. The Buckeyes were able to see some shots fall from nearly every player, while managing a respectable defensive effort. 93 points is certainly unattainable night in and night out in the Big Ten, but it is promising to see the offense return after a few weeks of struggle.
A Look at the Fighting Illini:
The Illini are 13-6 and have won four of their last five games, seemingly playing better after guard Skyy Clark left the team. However, they are coming off a loss to Indiana, who beat them by 15 at home. This surely will have them fired up to face the Buckeyes.
The projected lineup:
Terrence Shannon Jr. (G)
Sencire Harris (G)
Matthew Mayer (F)
Dain Dainja (F)
Coleman Hawkins (C)
The Illini have a different look this year after big man Kofi Cockburn left for the 2022 NBA Draft. Despite his departure the Fighting Illini still have a very lengthy starting five, with the shortest player standing at 6'4". This size will certainly give them an advantage over a smaller Buckeye team.
The leading scorer for the Illini is guard transfer Terrence Shannon Jr. After a successful career with Texas Tech from 2019-22, he's picked up right where has left off. He gives the Illini 18.1 points per game to go along with 5.5 rebounds and 3.2 assists. His guard counterpart is Sencire Harris who was a highly touted recruit from St. Vincent-St. Mary. The #2 overall player out of Ohio was a great get by Coach Underwood. He has recently earned the starting role as the Illini searched for a shakeup.
Standing at 6'9" and 6'10" respectively, Dain Dainja and Coleman Hawkins give the Illini their size in the paint. Like Harris, Dainja just recently moved into the starting role and has done well since the promotion. He's averaging 11.6 points per game, 6 rebounds, and 1.8 blocks. He size and athleticism will surely be a challenge the Buckeyes most overcome. Hawkins is the same deal, he also adds 10+ points and 6 rebounds.
Matthew Mayer is also a guy the Buckeyes will need to keep their eyes on at all times. The senior transfer from Baylor can fill it up from beyond the arc. Although he is coming off a scoreless night against Indiana, he is still a player who can score in bunches.
Expectations:
The Buckeyes starting lineup (based off last outing):
Isaac Likekele (G)
Roddy Gayle (G)
Bruce Thornton (G)
Bruce Sensabaugh (F)
Zed Key (C)
Holtmann has shown the willingness to change up his starting groupings. So we'll see what he decides to go with tonight. Especially after the shakeup worked well against Iowa.
The Buckeyes got back on track Saturday, while Illinois lost their last meeting. Every night is a grind and battle in the Big Ten and this game should be no different.
I believe that the Buckeyes are a very talented team with lots of potential. But, their recent play especially on the road doesn't warrant the confidence of a win prediction. With that said, if they can channel the energy and execution from the Iowa game they could beat any team in the conference. However, I think the size of Illinois and the road factor could trip up the Bucks yet again.
Score Prediction: 74-70, Illinois
feature image: Joseph Scheller, USA Today Network