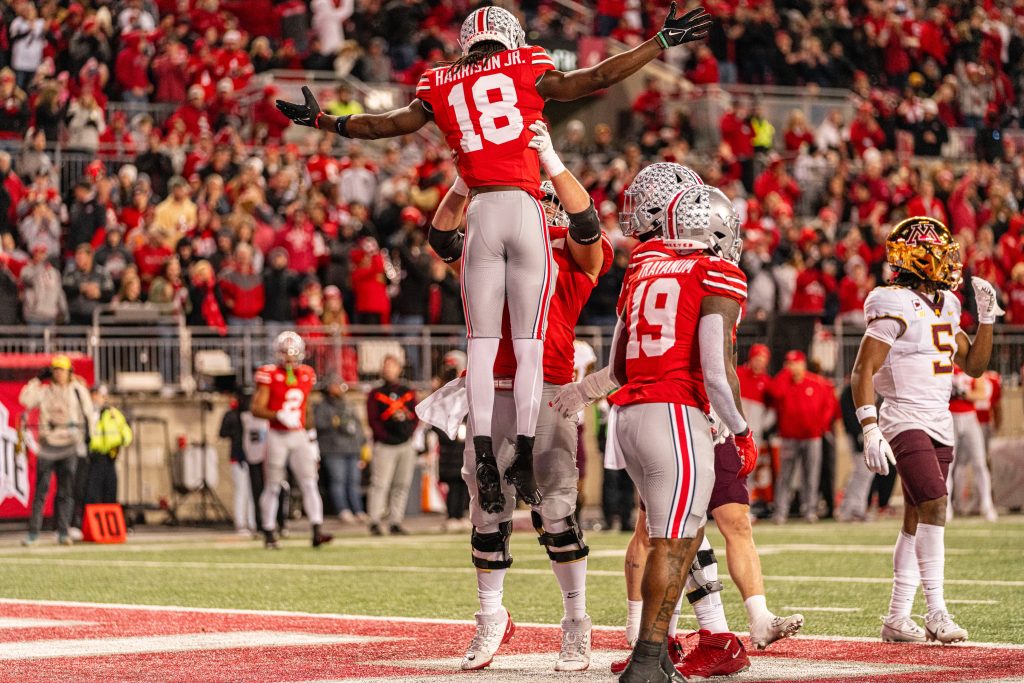 President Blake Biscardi answers the question: Can Ohio State beat TTUN? He evaluates the offense, defense, and coaching to decide.
Dear fellow Buckeyes,
Champions are defined by how they respond. Ryan Day, Jim Knowles, and Ohio State have spent the last twelve months preparing, adjusting, and building toward this moment. All of the chips will move to the center of the table.
All year long, you evaluate your team by how they'll fare against their rivals. Ohio State and TTUN set the standard for that process. Whether winning games by double digits or getting stuck in one-possession thrillers, everything is seen through the lens of "Can this beat TTUN?" 
For the second year in a row and third all-time (2006), The Game will be played with two 11-0 teams for the first time in college football history. No other series has had two such instances of meeting 11-0 or better. 
In the last decade, Ohio State and TTUN have proved why it's the greatest rivalry in all of sports. It has featured 3 Top 3 Matchups, 4 Top 5 Matchups, and 6 Top 10 Matchups. There is no other rivalry on this level. 
You're judged at Ohio State by how you perform against TTUN, so let's look at the Buckeyes' first eleven games and determine if they can win in Ann Arbor.  
Jim Knowles and the Ohio State Defense 
In each of the last two seasons, the Buckeyes fell short against the Wolverines due to defensive deficiencies. During The Game in 2021, Ohio State had trouble stopping the run, while in 2022, the Buckeyes gave up five costly big play touchdowns. The entire goal of the 2023 defensive scheme, led by Jim Knowles, was to eliminate those two from happening again. 
TTUN and Ohio State have the nation's No. 1 and 2 scoring defenses. Both units are led by veterans and play sound football. The Buckeyes vastly improved defensively this year thanks to the philosophy change of not giving up big plays. 
Ohio State has an elite secondary and a great run-stopping front. TTUN likes to lean on its running game with stud RBs Blake Corum and Donovan Edwards. The trenches will be where the game is won. Historically, whichever team wins the rushing battle wins The Game. As good as Ohio State's perimeter weapons are, that will not change next Saturday. The Buckeyes have to run the football efficiently. 
If needed, the secondary is good enough to play on an island to allow an extra man in the box to slow down the ground attack. Ohio State has not had that luxury in the last two years. JJ McCarthy is a capable runner at quarterback, so having numbers in the box is essential for the Buckeyes. Additionally, forcing McCarthy to throw the ball is key. Both defenses are top-tier at stopping the run, so if this can become a QB Battle, now you bring in the only true x-factor on the field, Marvin Harrison Jr. 
2. Marvin Harrison Jr leads the Offense, and TreVeyon Henderson and Emeka Egbuka are Healthy. 
The Ohio State offense has battled inexperience and injuries throughout the season. But Ryan Day preaches to play your best football in November. It just so happens getting healthy, and November are coinciding as the Buckeyes are peaking offensively. 
Two weeks ago, Kyle McCord played his best game against Michigan State. TreVeyon Henderson has been one of the most dynamic players in the country since he returned from his injury. Marvin Harrison Jr speaks for himself. He is the most outstanding player in college football. Emeka Egbuka and Cade Stover are back and healthy, too. That combination of talent and weapons eases the burden on McCord and allows Ohio State to be successful. 
Ryan Day's willingness to lean on the running game has allowed the Buckeyes to reach the next level offensively. He is in his fifth season as a head coach, which means he's still learning what kind of identity his teams need and how to compete with the top teams in the country. Day has leaned into the ground game more this year than any other since 2019 because he knows that's what it takes to beat TTUN. 
Historically, even with the elite playmakers that have come through Columbus, the best Ohio State teams had a great running game. TreVeyon Henderson has been dynamic with his burst, vision, and agility. His home run-hitting ability makes him a top RB in college football. Henderson has been the difference-maker for the Ohio State offense. 
On the outside, Marvin Harrison Jr has been the catalyst of the offense. When talent is equated in a matchup game, it only counts for ten of Ohio State's eleven offensive starters. No. 18 is that good, and no matter who stands opposite him on the field, he is still an X-factor and game-changing WR. Expect a heavy dose of Henderson and Harrison on Saturday. 
As I've said, Kyle McCord has to be a distributor and game manager all year. He does not need to be Justin Fields or CJ Stroud to win The Game. He needs to operate the offense, take what the defense gives him, and play a clean, turnover-free game like he did against Notre Dame and Penn State. 
3. Coaching 
Ryan Day and the staff understand these two teams have been on a collision course all season. Beyond that, he understands this is the evaluator game. The entire year has built up to this moment. It's time to seize it. Offense, defense, and special teams. Four quarters. Sixty minutes of war. 
Jim Harbaugh will not be on the sidelines for TTUN. However, he's still permitted to fulfill his other coaching duties so long as he's not in the stadium on game day. Sherrone Moore will serve as acting head coach to lead a veteran team. JJ McCarthy and company will help alleviate Harbaugh's absence and calm the Wolverine jitters. 
Expect a highly energized yet focused Ryan Day and Ohio State Buckeyes on Saturday. It will exceed Peach Bowl levels. Never has so much been at stake in the greatest rivalry in sports. If you thought the build-up for last year's game was epic, welcome to 2023. 
The Big Ten East Division Title, Big Ten Conference Championship, Heisman Trophy ramifications, a College Football Playoff spot, and National Championship implications are on the line in this legacy-defining, rivalry-shaking, undefeated top-3 showdown between Ohio State and TTUN in Ann Arbor. Ohio State is peaking at the right time. The Buckeyes are ready.