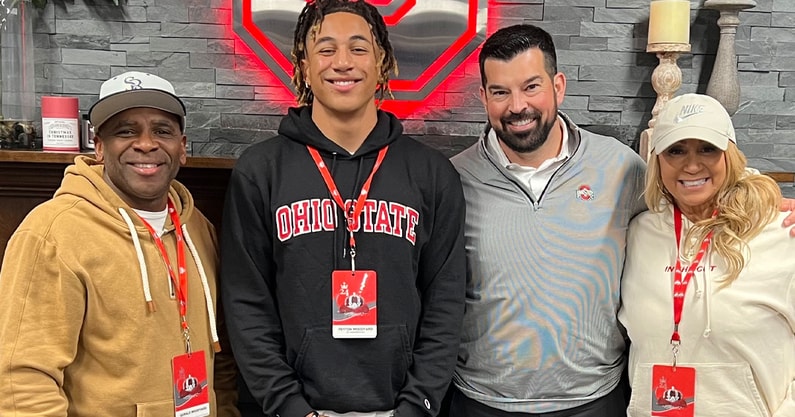 Recently, the Buckeyes hosted four-star safety Peyton Woodyard on an unofficial visit which caught the eye of a lot of recruiting fanatics. Woodyard has been solidly committed to Georgia for quite a while but has now scheduled an official visit to Ohio State on June 16th, per his Twitter.
THE OHIO STATE 6.16.23 🌰📍 pic.twitter.com/f1UmDb13Pk

— Peyton Woodyard (@peypey_wood) May 4, 2023
The Athens native has been committed to Georgia since January 7th, 2o23. On April 12th, Woodyard made a surprise visit to Ohio State and then went to Alabama the following day. He would subsequently visit Georgia for their G-Day. Speaking of Georgia, Woodyard is slated to be back in Athens on June 2nd. The Buckeyes are not backing down and definitely have a chance at Woodyard.
Georgia native, five-star safety KJ Bolden's recruitment is also a factor relating to Woodyard. There is a belief Bolden is leaning towards staying home in the state of Georgia, meaning Woodyard could look elsewhere to earn an opportunity to get on the field quickly. Woodyard was a huge part of St. John Bosco's defense last season and will look to the same this season. Woodyard also plays with Buckeye target and four-star linebacker Kyngston Villamu-Asa, who will take an Official Visit to Columbus on June 23rd. Woodyard is ranked the #106 National recruit, #8 Safety and #14 in California.