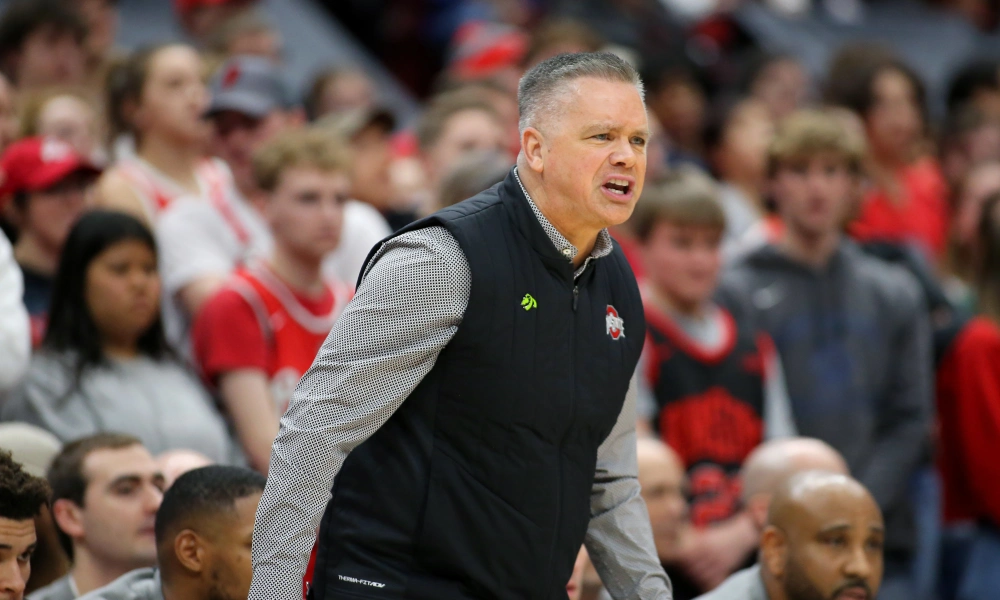 It is fair to say that the 2022-23 Ohio State basketball team produced a less than satisfying result. Overall, the team finished with a record of 16-19, with a disappointing 5-15 record in conference play.
Losing EJ Liddell and Malaki Branham to the NBA was a big blow. Ohio State head coach Chris Holtmann tried to overcome this, but a hodgepodge roster led to inconsistent play.

How 2022-23 played out:
The Buckeyes brought in experienced veterans Sean McNeil (West Virginia), Isaac Likekele (Oklahoma State) and Tanner Holden (Wright State) via the transfer portal, which figured to be a nice boost. However, Holden's only major impact was an early season buzzer beater against Rutgers, as he didn't receive much playing time due to defensive ineptitude. On the other hand, McNeil was a lights out shooter who earned a starting role for the majority of the season. Holtmann and his staff surely wish he'd had more than one year of eligibility remaining.
As for the freshman class, which included Brice Sensabaugh, Roddy Gayle, Bruce Thornton, and Felix Okpara, their development was wonderful. Sensabaugh played so well he will likely be a 1st round draft pick, as he has entered the NBA Draft while maintaining eligibility. Bruce Thornton had a really solid early season, but had his woes in January and February, before blasting off again late season and into the conference tournament. Okpara took full advantage of a season-ending Zed Key injury and declared himself a force to be reckoned with. His offense game took leaps and bounds, while he proved himself an extremely capable shot blocker and Big Ten big man for years to come. For Roddy Gayle we only saw flashes, mainly on the defensive end, until his offensive outburst in the Big Ten tournament after a Sensabaugh injury. Overall, this was a very successful recruiting cycle for Holtmann whether Sensabaugh leaves or not.
The big question is, how do things look and play out roster-wise as we move toward the 2023-24 campaign?
As of right now, there are four guaranteed departures for the Buckeyes:
Justice Sueing: The super senior will forgo any remaining eligibility and enter the NBA draft. He was the 2nd-leading scorer for the Buckeyes at 12.3 points per game. After an injury riddled career, 2022-23 was his best season despite some inconsistent play at times. Ultimately, he was a key piece in many wins this season including a signature performance in Maui.
Sean McNeil: The West Virginia transfer was a life-saver for Holtmann. He gave the team 9.7 points per game and knocked down many huge buckets. The unfortunate aspect is his only 1-year of eligibility.
Isaac Likekele: The Oklahoma State transfer's tenure with the Buckeyes would probably be summed up as rocky. He missed some time dealing with personal matters. When he was playing, the output was inconsistent. He provided the Buckeyes a reliable ball handler and solid defender, but really couldn't tie things together game to game.
Eugene Brown: Recently entering his name into the transfer portal, the Junior Guard saw limited playing time in Columbus. He'll finish his Buckeye career at 2.2 points, 1.5 rebounds per game. He just never made the jump to an above average player.
With these departures the current roster plays out as follows (pending transfers in/out):
SENIORS:
Zed Key
Owen Spencer
Tanner Holden
Jamison Battle
JUNIORS:
N/A
SOPHOMORES:
Felix Okpara
Roddy Gayle
Bowen Hardman
Bruce Thornton
Jalen Etzler (RS)
Bruce Sensabaugh (pending draft status)
FRESHMEN:
Austin Parks
Devin Royal
Scotty Middleton
Taison Chatman
This leaves three big question marks for the Buckeyes that should sort themselves out over the coming weeks.
Will Brice Sensabaugh return?
The freshman phenom was the leading scorer this season at 16.3 points per game. He shot 48.2% from the field, 40.5% from three, and 83% from the line. His played earned him All-Big Ten Freshmen team honors. He is currently projected as a late first round draft pick. His late season knee issue and defensive flaws will likely determine his fate.
Can Holtmann land Bronny James?
The son of NBA great LeBron James has listed the Buckeyes in his top-3 alongside Oregon and USC. However, he has yet to commit or even announce a commitment date. This may be nearing though, as speculation has led many to believe he could make a decision following his participation in the Nike Hoop Summit. Landing Bronny would be monumental for the program both present and future.
Will Buckeyes add via portal?
Ohio State landed Minnesota transfer Jamison Battle earlier today. Battle is a scoring forward who will surely provide valuable minutes on a relatively young team in 2023-24. If Ohio State decides to move Owen Spencer back to walk-on status, there will be another opportunity to add a portal player (or Bronny James) The Buckeyes have been linked to an extensive list of transfer portal options including:
Micah Handlogten, 7'1" Center, Marshall

Javon Small, 6'2" Guard, ECU

Keyon Menifield, 6'1" Guard, Washington

DJ Horne, 6'1" Guard, Arizona St.

Joe Girard, 6'1" Guard, Syracuse

John Tonje, 6'5" Guard, Colorado St.

Payton Sparks, 6'9" Center, Ball State

Keyshawn Hall, 6'7" Guard, UNLV

Johnny O'Neil, 6'9" Forward, American

Jace Carter, 6'5" Forward, Illinois-Chicago

Jordan Minor, 6'8" Forward, Merrimack

Ishmael Leggett, 6'3" Guard, Rhode Island

Khalif Battle, 6'5" Guard, Temple

Jackson Paveletzke, 6'3" Guard, Wofford

Kevin Miller, 6' Guard, Central Michigan

Cobe Williams, 6' Guard, Lousiana Tech

Nick Timberlake, 6'4" Guard, Towson

Kamari Lands, 6'8" Forward, Louisville

Dame Adelekun, 6'8" Forward, Dartmouth

Chris Ledlum, 6'6" Forward, Harvard
Despite a rocky 2022-23 season the future looks bright for Coach Holtmann. Fan have been justified in their criticism and high expectations, but the Holtmann staff does appear to be trying their hardest to succeed. Here's to hoping 2023-24 lives up to the expectations!
featured image: USA TODAY Sports