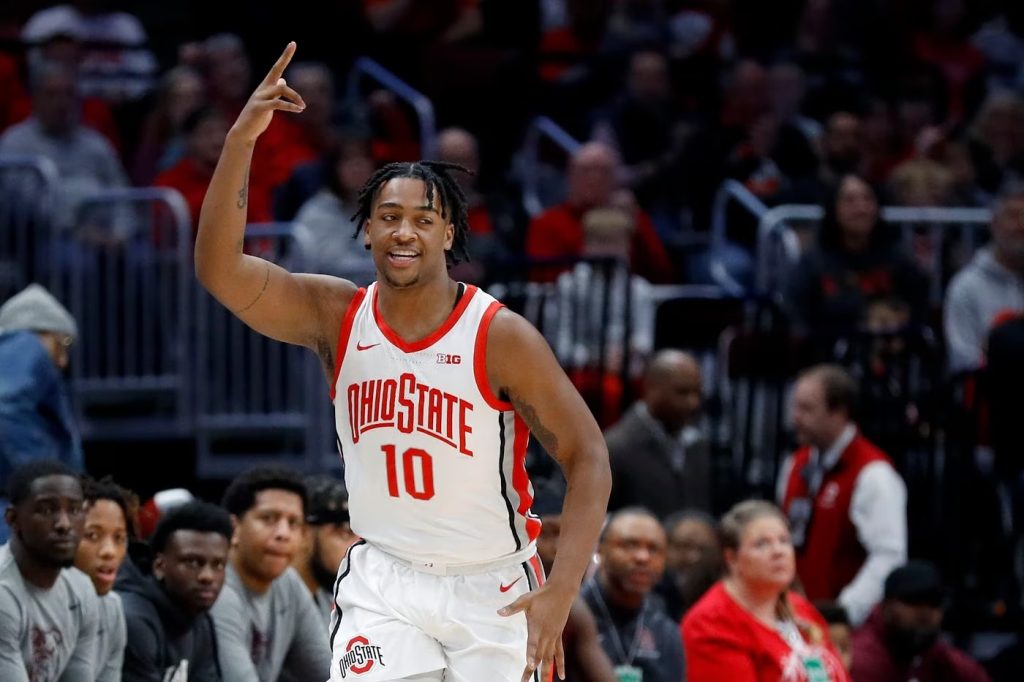 Ohio State basketball now sits at 11-16 as they try to limp their way to the end of the season. Their primary motivations at this point are developing the freshmen and playing spoiler. Tonight they will take on Penn State at 6:30 pm ET from Columbus, live on Fox Sports 1.
Buckeye Preview:
The Buckeyes continue to reach new lows as this season progresses. Their recent defeat came at the hands of #3 Purdue. The Buckeyes were significantly outplayed and lost by 27 on the road. To make matters worse, it was confirmed this week that Zed Key will have season-ending shoulder surgery. The Buckeyes will now be down to just one true center, freshman Felix Okpara.
This loss of Key to injury and inability by Ohio State to fill his void points to larger roster management issues by head coach Chris Holtmann. He had allowed Harvard transfer Seth Towns to return for a seventh season, taking a scholarship. After Towns opted out, the Buckeyes subsequently lost that scholarship and were unable to fill that void with another big.
Ultimately, the struggles offensively combined with the youth and fresh-faced roster has become to much to overcome. The lack of cohesion and inability to overcome adversity sent the program into a spiral in 2023.
At this point each game is a chance to build for the future and get these young guys playing experience.
A Look at the Nittany Lions:
Penn State is 16-11 on the season and has gone 7-9 in the Big Ten. They have played pretty respectably, thanks to their stud guard, Jalen Pickett. They enter Columbus on a 2-game winning streak.
The projected lineup:
Camren Wynter (G)
Jalen Pickett (G)
Andrew Funk (G)
Seth Lundy (F)
Kebba Njie (C)
Penn State isn't necessarily a top dog in the Big Ten this season, but they certainly aren't a team to slack off against. Pickett has been carrying this team of late, obtaining National Player of the Week honors from every outlet. He has scored 41 and 32 in the past 2 outings against Illinois and Minnesota. On the season he is the teams leading scorer at 18.6 points per game.
Lundy and Funk also average double figures for the Nittany Lions. This pair is an added scoring threat if teams try to double Pickett in an effort to slow him. They both are very capable 3-point shooters, able to fill up the stat sheet in a hurry.
Collectively this Nittany Lion team are the best 3-point shooting group in the conference. They shoot 38.9% from distance and have made 10+ in their past three games. They will surely look for as many opportunities as possible against an Ohio State team that struggles to defend the arc.
Expectations:
The Buckeyes starting lineup (based off last outing):
Roddy Gayle (G)
Brice Sensabaugh (G)
Bruce Thornton (G)
Justice Sueing (F)
Felix Okpara (C)
The Ohio State basketball team is miraculously a 2.5 point favorite despite losing Zed Key and facing a hot Penn State team. If the Buckeyes can't slow down Pickett and generate consistent offense, they likely obtain another loss. Which would be devastating, as they have already lost once to each of their final three opponents. Hoping to speak some positive vibes into the game, I'll take the Buckeyes to win a close one.
Score Prediction: 65-63, Ohio State
Featured Image: Joseph Maiorana, USA Today