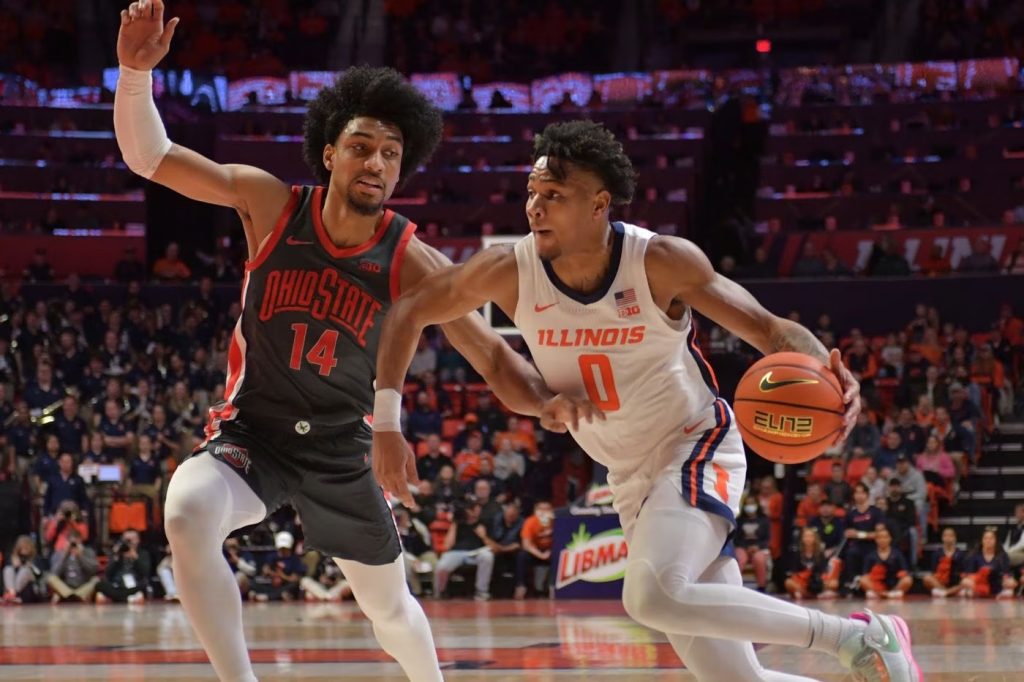 The Ohio State basketball now sits at 11-17 as they continue to limp their way to the end of the season. Their only motivation at this point is developing the freshmen and playing spoiler. Today they will take on Illinois at 12:00 pm ET from Columbus, live on CBS.
Buckeye Preview:
The Buckeyes continue to reach new lows as this season progresses. They lost a close matchup against Penn State this past Thursday by a score of 75-71. The Buckeyes played well for most of the contests. They were scoring the ball and handling it with care, but their defense was pitiful down the stretch. The inability to get a stop and score late led to the loss.
The loss of Zed Key to injury and inability by Ohio State to fill his void points to large roster management issues by Holtmann. He had allowed Harvard transfer Seth Towns to return for a 7th season, taking a scholarship. After he opted out the Buckeyes subsequently lost that scholarship and were unable to fill that void with another big.
Ultimately, the struggles offensively combined with the youth and fresh-faced roster has become to much to overcome. The lack of cohesion and inability to overcome adversity sent the program into a spiral in 2023.
At this point each game is a chance to build for the future and get these young guys playing experience.
A Look at the Fighting Illini:
The Illini are 19-9 have won their last 2 matchups. They defeated Minnesota and most recently Northwestern, in a gutsy win over a hot team. They are currently 5th in the Big Ten and comfortably hold a NCAA tournament bid.
The projected lineup:
RJ Melendez (G)
Jayden Epps (G)
Matthew Mayer (F)
Dain Dainja (F)
Coleman Hawkins (C)
The Illini have a different look this year after big man Kofi Cockburn left for the 2022 NBA Draft. Despite his departure the Fighting Illini still have a very lengthy starting five, with the shortest player standing at 6'4". This size will certainly give them an advantage over a smaller Buckeye team.
The leading scorer for the Illini is guard transfer Terrence Shannon Jr. After a successful career with Texas Tech from 2019-22, he's picked up right where has left off. He gives the Illini 17.3 points per game to go along with 4.8 rebounds and 2.9 assists. He has recently transitioned to an off the bench role in lieu of RJ Melendez, who has been playing extremely well.
Standing at 6'9" and 6'10" respectively, Dain Dainja and Coleman Hawkins give the Illini their size in the paint. He's averaging 10.1 points per game, 5.8 rebounds, and 1.3 blocks. His size and athleticism will surely be a challenge the Buckeyes most overcome. Hawkins is the same deal, he also adds 10+ points and 6 rebounds.
Matthew Mayer is also a guy the Buckeyes will need to keep their eyes on at all times. The senior transfer from Baylor can fill it up from beyond the arc.
Expectations:
The Buckeyes starting lineup (based off last outing):
Brice Sensabaugh (G)
Roddy Gayle (G)
Bruce Thornton (G)
Justice Sueing (F)
Felix Okpara (C)
There are really no positives to pull from at this point in the season aside from the fact the freshmen are playing. The previous matchup was probably the best shot for Ohio State to gain another win this season. I don't see them getting it done against an Illinois team that defeated them by 15+ already this year.
Score Prediction: 74-59, Illinois
Featured Image: Ron Johnson, USA Today Network