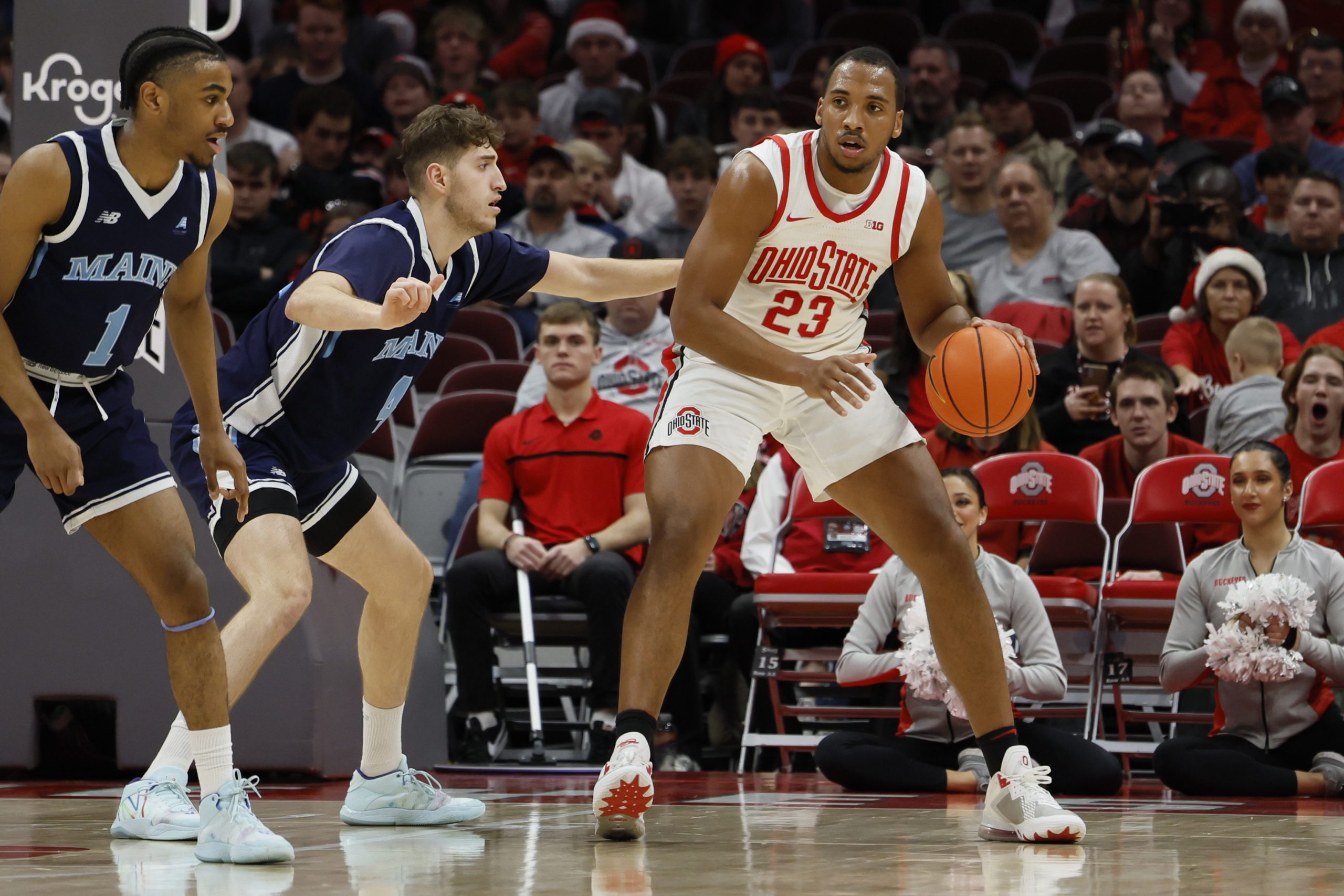 The Ohio State basketball team is 8-3 after a dominating performance against Maine last week. They will face Alabama A&M this afternoon in their final non-conference game. Tip-off is set for 3:00 pm ET with live coverage on BTN.
Buckeye Preview:
The Buckeyes have a had a nice mix of non-conference opponents. Not all their matchups have been cakewalks as Ohio State has been faced with the likes of Duke, North Carolina, Texas Tech, etc. But, their final two non-conference matchups were certainly scheduled with the intention of being a tuneup before the remainder of the conference slate.
Against Maine, Buckeye head coach Chris Holtmann was able to get his young players ample court time. Holtmann mixed and matched a bunch of lineups and made sure all players were able to at least have the opportunity gain some confidence. Brice Sensabaugh earned another start with the absence of Isaac Likekele, and put together another solid outing of 19 points, 7 rebounds, and 7 assists. Fellow freshmen Felix Okpara and Bruce Thornton also had solid nights, reaching into double figures as well.
The Buckeyes will hope to get one more night of tune up before hitting the brutal stretch that is the Big Ten conference.
A Look at the Bulldogs:
The Alabama A&M Bulldogs are 4-8 on this young season. They enter today's game on a two-game losing skid, including losses to Vanderbilt and Illinois.
The projected lineup:
Garrett Hicks (G)
Messiah Thompson (G)
Dailin Smith (G)
Austin Harvell (F)
Alisa Blaise Akonobi (C)
The three starting guards are the lifeblood of the offense and team in general. All of them are averaging double figures in points and around 1.5 steals per contest. These numbers indicate Ohio State's guards will be in for a nice challenge on both ends of the floor.
Akonobi also gives the Bulldogs some nice size inside and will have to be kept in check by the Ohio State bigs.
Expectations:
The Buckeyes starting lineup should be the same:
Brice Sensabaugh (G)
Sean McNeil (G)
Bruce Thornton (G)
Justice Sueing (G)
Zed Key (F)
Eugene Brown III will be available for the first time this season after clearing concussion protocols. Isaac Likekele remains out indefinitely.
As we've learned early on this season, no team can be slept on. However, the Buckeyes shouldn't be in danger of an upset if they come out and execute their game plan. Ohio State is statistically one of the top offenses in the country and couples that with stingy defense. The Bulldogs did pull off a 14-0 run against Illinois and hang close with Vanderbilt, showing their competitiveness. I believe Ohio State will be well prepared and knock off the Bulldogs with ease, a nice precursor for the CFP matchup against the UGA Bulldogs on Saturday.
Score Prediction: 92-64, Ohio State
Featured image via: Jay LaPrete, AP Photo