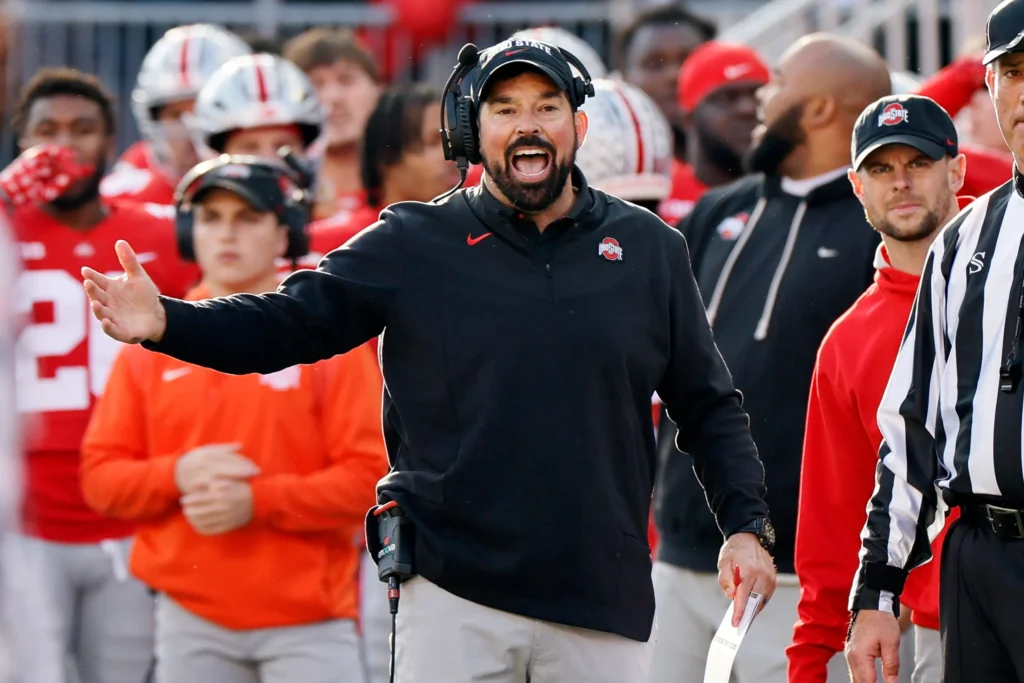 We're just three days away from the Peach Bowl where Ohio State will get to take on the Goliath in the Georgia Bulldogs. This game is going to mean a lot to Ohio State's future of the program. Are they a team who can overcome a poor outing in November and prover to be still an elite contender? Or are they a program on the downslide under Ryan Day? There are a lot of questions to be answered, but make no mistake about it, this game plays a massive impact on the landscape of recruiting for Ohio State.
One major five star blue chipper who's going to be keeping a close eye on this game will be Jefferson, Georgia's Sammy Brown. The Buckeyes offered Brown over a year ago and have always been considered on the outside looking in on his recruitment. It still may be true that Georgia is the leader for the in state product and top linebacker in the 2024 class but it appears schools like Ohio State and Clemson have certainly come into the mix as of late.
The Michigan game seemed to slow down a lot of progress for the Buckeyes going into bowl season. Ohio State's biggest recruiting weekend of the year backfired as the Buckeyes played their worst game of the season. The Buckeyes have definitely built momentum since making the playoffs though. Whether programs choose to believe it or not being a playoff contender still matters even in the NIL era. Of course, Alabama and USC are still able to pay recruits handsomely, but the elite recruits who still focus on winning and being in the playoffs are paying attention.
In fact, Brown is not the only five star prospect Ohio State seems to be picking up some momentum with but the Buckeyes are also gaining ground on five star WR Joshisa "Jojo" Trader. Trader announced on Monday that he narrowed his top five list down to Ohio State, Miami, Tennessee, Florida, and Florida State via Twitter. It's been no secret that the Buckeyes and Hurricanes are leading the charge in this recruitment but the Buckeyes seem to be now in the driver seat after fellow five star and high school teammate Jeremiah Smith committed to the scarlet and grey. With Miami really struggling to put a good product on the field, it's going to be tough for them to win this recruitment. A lot of players are still able to be bought which is what Miami's focus has been. However, the elite athletes like Smith and Trader want to be developed and still win at the next level.
Luckily, for Ohio State they have Brian Hartline's recruiting and development program which seems to be worth a lot more than just money to top level WR recruits. At this point in time the Buckeyes are certainly leading after the front nine holes of this recruitment but we will see if the Buckeyes can close it out out on the back nine.
Finally, let's wrap up with some more five star news. This recruitment probably means more to the 2024 class more than any other player in the country. In state Glenville, Ohio five star cornerback Bryce West currently has the Buckeyes as his leader. West has been trending Ohio State's way for awhile and I've been told by a few sources close to his recruitment we may be getting a boom some time after the college Peach Bowl. It is absolutely imperative that the Buckeyes seal the deal on this recruitment as West is not only a player who's right there in their backyard but he's a lockdown corner who is probably the most talented in state coverage player we've seen since Marshon Lattimore. The irony of it all is that West trains all summer with Lattimore and the two are both Glenville products. It feels like its not a matter of if, but when. The Buckeyes have recently opened the Glenville pipeline back to Columbus as of late with Arvell Reese recently signing his LOI to Ohio State. The program is expecting more in the near future with West. West is currently the No.4 CB in the 2024 class but I fully expect him to end up in the top two when it's all said and done.
As always, stay tuned for more Bullet Points.