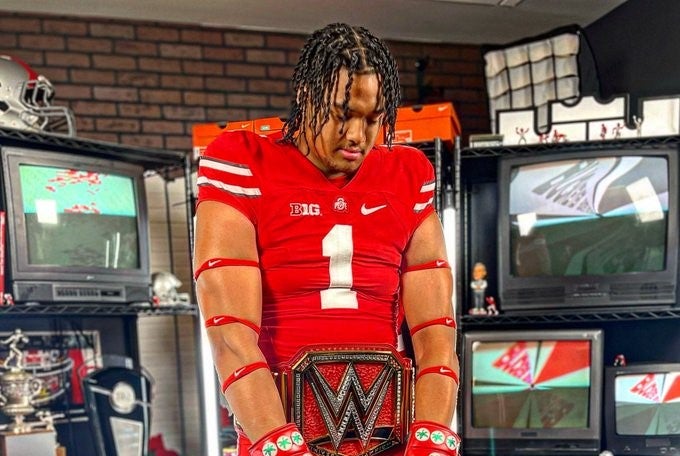 As we inch closer to the Buckeyes taking on Georgia in the Peach Bowl on New Year's Eve, we also move closer to Early National Signing Day for the class of 2023. With that said, in today's Bullet Points session, we take a look at some big upcoming commitments from a pair of five-star defensive ends and the latest news on the Ohio State 2024 class.
This week has certainly had its ups and downs for Ohio State recruiting fans. The week started off with Ohio State losing out on five star defensive end Keon Keeley, who pledged his services to Nick Saban's Crimson Tide. From there, the Buckeyes found themselves on the right end of a flipped recruitment when four star Quarterback Lincoln Kienholz announced via Twitter that he was leaving the Washington Huskies class to join the Buckeyes. Following that major win in the morning, the Buckeyes were given massive news in the evening that the No.2 player in the country in 2024, Jeremiah Smith, would also be committing to the Buckeyes. A whirlwind of a week no doubt, but as always in the recruiting game, it's "Who's next?"
Home🌰 https://t.co/x4dqIQSkdg

— Jeremiah Smith ✞ (@Jermiah_Smith1) December 14, 2022
The Buckeyes top two edge rushers left on the board are both set to commit in the month of December. First off, let's take a look at five star Damon Wilson, as the highly touted edge rusher is set to commit on December 21st. The Buckeyes and Georgia are the clear leaders in this recruitment. The buzz has certainly been in favor of Ohio State at times in this recruitment but it seems to have shifted in favor of Georgia at this time. Wilson did make the trip to Columbus for the Ohio State-Michigan matchup, however the game did not turn out the way the Buckeyes were hoping and certainly did them no favors in Wilson's recruitment. At this time, it's really a 55/45 battle with Kirby Smart in the driver seat and Ryan Day in the passenger seat. I suspect when the 21st roles around, that Wilson makes it official and picks the Dawgs.
Jumping over to the other major recruitment that also will be wrapping up on December 21st is Matayo Uiagalelei. Uiagalelei has a top three suitors list of Ohio State, Oregon, and USC. For the past couple months, Uiagalelei has certainly been entertaining the west coast programs more than the Buckeyes. I have heard as of late that the multiple visits to USC and Oregon were really to make sure he could get a feel for those schools to see if it changed the way he felt about Ohio State. I've heard a few things that suggest Uiagalelei may pick the Buckeyes on December 21st. He's consistently been speaking to defensive line coach Larry Johnson over the past few weeks and it appears it's heading in the right direction. Many may think USC or Oregon is leading but at this time I would pick Uiagalelei to commit to the Buckeyes. That could change if and when Uiagalelei visits Eugene this weekend.
There have definitely been a lot of rumors circulating in regards to NIL and how it plays a factor in some of the big time 2024 recruits. Luckily, Ohio State did end up on the right side of it with Jeremiah Smith's commitment yesterday. However, there seems to be some worry about Nebraska offering Dylan Raiola a massive NIL deal to flip his commitment. Should Ohio State fans be worried about this? Absolutely not. Raiola is locked in to his recruitment and yesterday should've been the biggest tell of it. When Smith committed to the Buckeyes, a large part of that was due to the fact he knew he was going to have the highest rated QB in the 247 composite throwing to him. With that being said, I'd expect some more news fairly soon in regards to the 2024 class and a another big time commitment coming soon.
As always stay tuned for more Bullet Points.