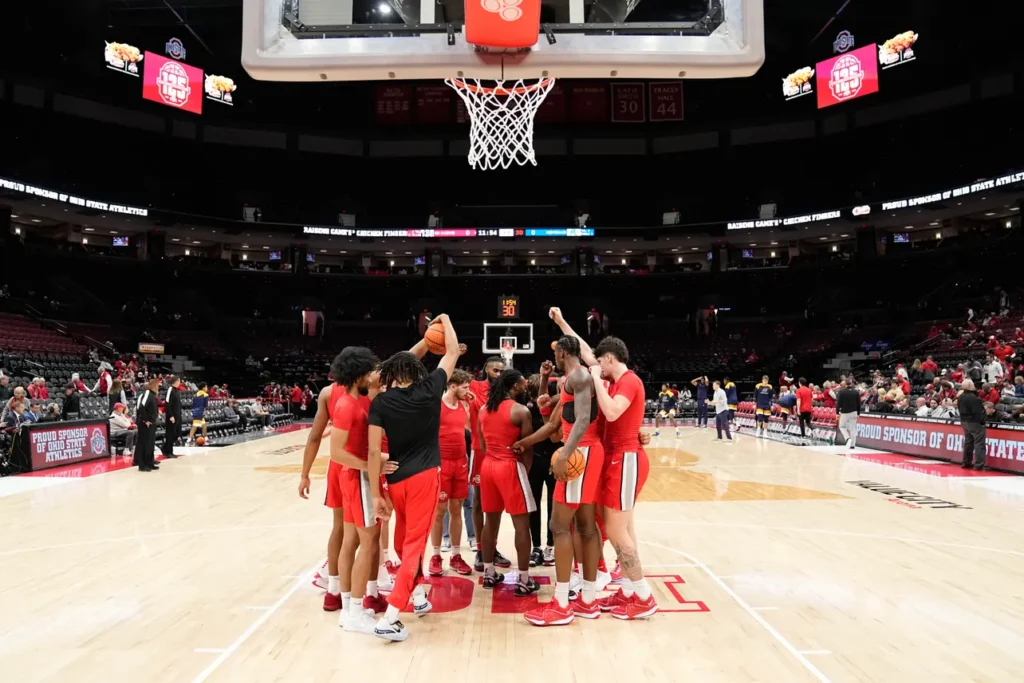 The Ohio State Buckeyes bounced back after a tough loss to Texas A&M by defeating Merrimack yesterday evening by the score of 76-52.
Despite the Warriors being without Jordan Derkack and seeing Samba Diablo riding the bench early with 3 fouls, they played the Buckeyes very tough. At the half, the lead was just 6 for the home team. Merrimack was able to hang within 10 points until around the 14-minute mark of the 2nd half. From that point on all things were clicking for the Buckeyes, who pulled away to win 76-52.
Top Performers:
Roddy Gayle- The Sophomore continues to show his improvement on offense, playing off his late-season push in the conference tournament. He led the team in scoring with 20 points, knocking down 3 triples.
Bruce Thornton- He was locked up pretty well by the Warrior defense, only providing 8 points. However, his 6 assists to just 1 turnover show his true value as a ball handler.
Zed Key- Recorded an important double-double, snagging 12 boards and scoring 11 points. His ability to get to the line is impressive, but he did leave 3 free throws on the table.
Jamison Battle- The transfer was struggling for much of the contest providing only 4 points in the first half. But when he was needed most, he rattled off 9 in the 2nd half to help lead his team to a win.
Overall, we still see that there are some growing pains on offense as the Buckeyes look for premier scorers. I think things would certainly look different with Sensabaugh in the mix. However, the athleticism and length are there for the Buckeyes. As well as more young talent capable of contributing this season. Promising times are ahead, hopefully, this season shows just that.
Ohio State's next contest is Sunday, November 19th, at noon ET as they host Western Michigan.