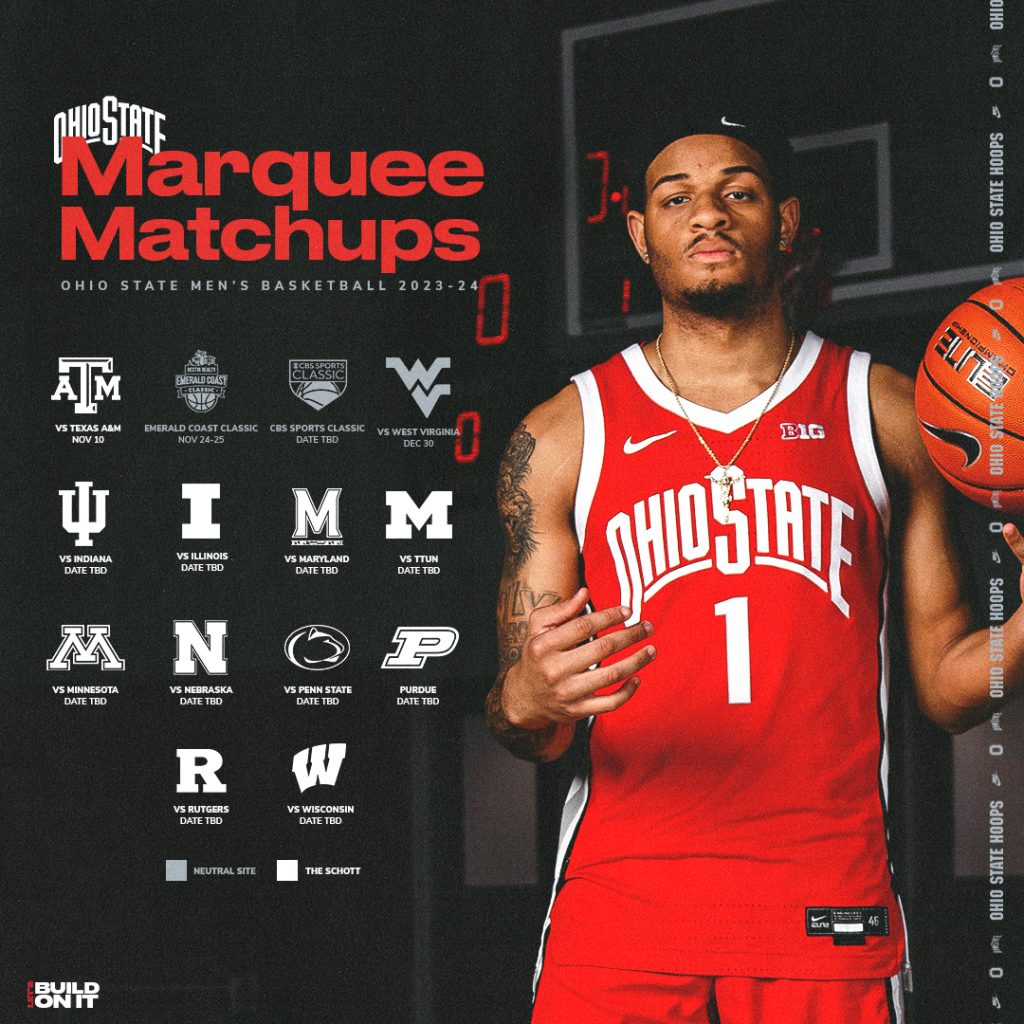 The Ohio State basketball team finished the 2022-23 campaign with a record of 16-19. Their struggles were primarily the result of a rough go in the conference slate where the Buckeyes finished 13th and went 5-15. They will surely be looking to bounce back strong, especially with the excellent performance in the Big Ten Tournament.
A favorable schedule, both home and and away, typically boosts the chances of success. With that said, it's never too early to take a look at what's on tap and how it could play out for the Buckeyes.
WHAT WE KNOW:
The Buckeyes have released their loose plans for the 2023-24 schedule. This includes two mini-tournaments, an exciting neutral site game, a potential top-25 home matchup, and the full set of Big Ten home/away matchups.
BREAKDOWN:
The non-conference slate is yet to be fully released, with ohiostatebuckeyes.com indicating the completed schedule should come early this summer.
Right now we know Ohio State will host the Texas A&M Aggies on November 10th, with Ohio State traveling to College Station the following season. They will also face neighboring state foe, West Virginia, on December 30th. This will be a neutral site game taking place in Cleveland, Ohio.
The Buckeyes will also be competing in two mini-tournaments:
The Emerald Coast Classic: This event will take place on Thanksgiving weekend. The field will consist of Alabama, Oregon, and Santa Clara. Matchups and times have yet to be finalized.
CBS Sports Classic: Details such as site and dates not yet confirmed. Participating teams include Kentucky, North Carolina, and UCLA.
Without knowing any other opponents yet, it's fair to say the Buckeyes have scheduled some formidable non-conference opponents. This should be a good grouping of games to get them ready for conference play.
CONFERENCE SLATE:
For the conference games, we don't yet know specific dates or times. However, we know all the opponents, how often we will play them, and where the games will occur.
Home only: Illinois, Maryland, Purdue
Away only: Iowa, Michigan State, Northwestern
Both: Indiana, Michigan, Minnesota, Nebraska, Penn State, Rutgers, and Wisconsin
The Good: Indiana is the only opponent Ohio State has to face twice that also finished in the top 7 of the conference. They were 12-8 and finished 2nd last season. Their other home/away opponents all finished at .500 or less in conference play, except Michigan who squeaked out an 11-9 record. The Buckeyes also avoid traveling to Mackey Arena and State Farm Arena, two of the toughest venues in the conference.
The Not So Good: The Buckeye faithful will not have the opportunity to see Michigan State come to the Schottenstein Center. OSU vs MSU is always a fun matchup, especially with Coach Izzo nearing the end of his coaching career.
TAKEAWAY:
With a very early look at the schedule, it seems Ohio State could be in position for a bounce back season, something Chris Holtmann and his crew could certainly use. Ohio State fans should be excited for the potential that lies ahead for 2023-24.
Featured image via: ohiostatebuckeyes.com