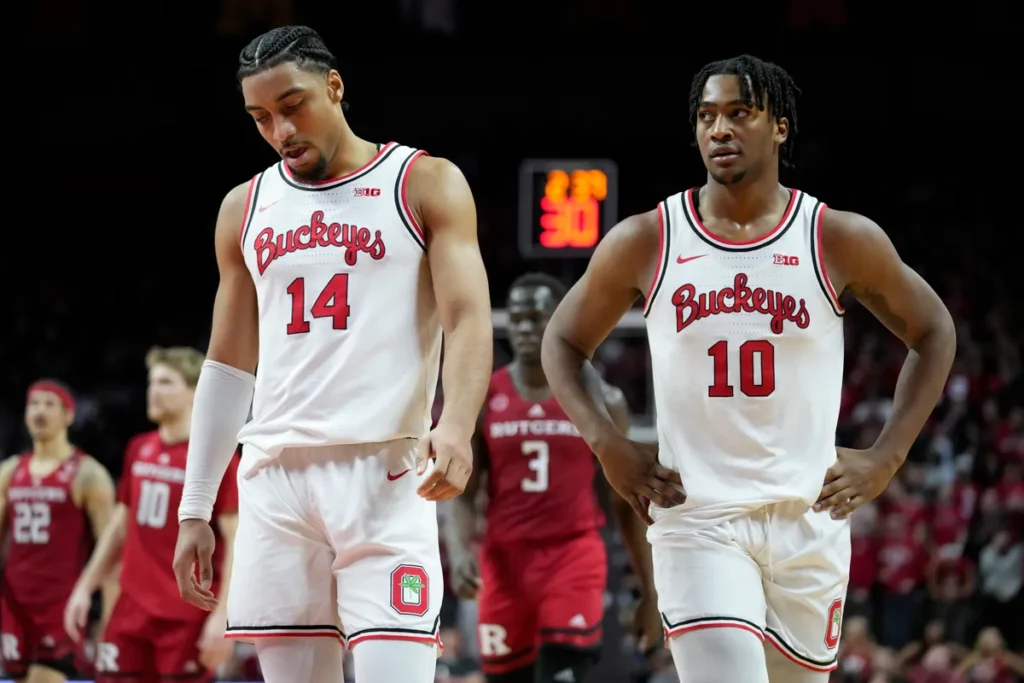 The Ohio State basketball team has yet to overcome their 2023 slump. After losing to Michigan on Sunday, the Buckeyes have fallen below .500 to a record of 11-12. At this point in the season, each game is a must win and the challenge continues tonight. The Buckeyes will face Northwestern at home at 8:00 pm ET on Fox Sports 1.
Buckeye Preview:
The Ohio State basketball team was on the losing end again Sunday, again by single digits. They fought hard throughout most of the contest, but every time they would pull close, the Wolverines would pull away. The likes of Hunter Dickinson and company were just too much for the Buckeyes.
Brice Sensabaugh had a poor shooting day, going 4-14 from the field. Thanks to free throws, he was able to again reach double figures with 14 points along with grabbing 4 boards. The freshman continues to find ways to fill up the scoresheet, off day or not.
However, his fellow freshman Bruce Thornton finally broke out of his 2023 slump. He was slashing his way into the paint and knocking down nearly every shot he took. Finishing with 22 points on 10/13 shooting, Thornton tallied his second double-digit output since the year began. His scoring struggles have spanned 11 games in the new year, after exceeding 10+ in the final six games of 2022. His recent growth and leadership earned him captain status, after an odd mid-season revote.
Justice Sueing also added 14 points of his own, despite struggling from the field. This trio accounted for 50 of the team's 69 points, while everyone else was seemingly non-existent. It is certainly exciting to see Thornton and Sensabaugh play at a high level, but the disappointing play from everyone else explains why the team has gone 1-9 in the past 10 games.
The Buckeyes need to continue to attack the glass, minimize turnovers, and create difficult situations for opposing offenses. A reset against a Northwestern team they've defeated already, in Evanston, is the best matchup you could ask for.
A Look at the Wildcats:
The Wildcats are 16-7 on the season and sit in fifth place in the Big Ten. The team has done a really fantastic job this season after losing a couple key pieces to the transfer portal. Of late they've been a little rocky, dropping contests to Michigan and Iowa, before defeating Wisconsin on Sunday.
The projected lineup:
Boo Buie (G)
Chase Audige (G)
Ty Berry (G)
Robbie Beran (F)
Matthew Nicholson (C)
The Wildcats live and die by their guard play. Audige and Buie are averaging 15.3 and 16.1 points per game respectively. Coach Chris Collins knows how important both these guys are to his team's success and lets them fill it up.
Another key piece of Northwestern's success is their size. Beran stands at 6'9" and Nicholson at 7' and both have great footwork and post skills. Nicholson collected 13 boards back in January against the Buckeyes and will look to repeat that rebounding success again. Beran is a diverse player, he can shoot mid-range and 3's but also back down and post up undersized defenders. Ohio State's defense of this pair will also be interesting.
Ultimately, the Wildcats will be looking for revenge. Ohio State defeated them by 16 on their home court, keeping the Buckeyes spiraling while avenging the loss would surely be enjoyable.
Expectations:
The Buckeyes starting lineup (based off last outing):
Isaac Likekele (G)
Sean McNeil (G)
Bruce Thornton (G)
Justice Sueing (F)
Zed Key (C)
Chris Holtmann continues to jumble the starting rotation, trying to keep Sensabaugh from getting taxed and into foul trouble and get his super-Senior, Justice Sueing, going offensively.
The Ohio State basketball team is going to need everyone on their A-game for not only today but the remainder of the season to earn wins. Brice Sensabaugh can't carry this team to wins, other guys are going to have to step up.
I'm hoping to generate some good vibes by picking the Buckeyes. Although Northwestern has been a really good team this season, I think the Buckeyes sweep the season series and earn a much needed victory.
Score Prediction: 76-68, Ohio State
Featured Image: Matt Marton, AP Photo