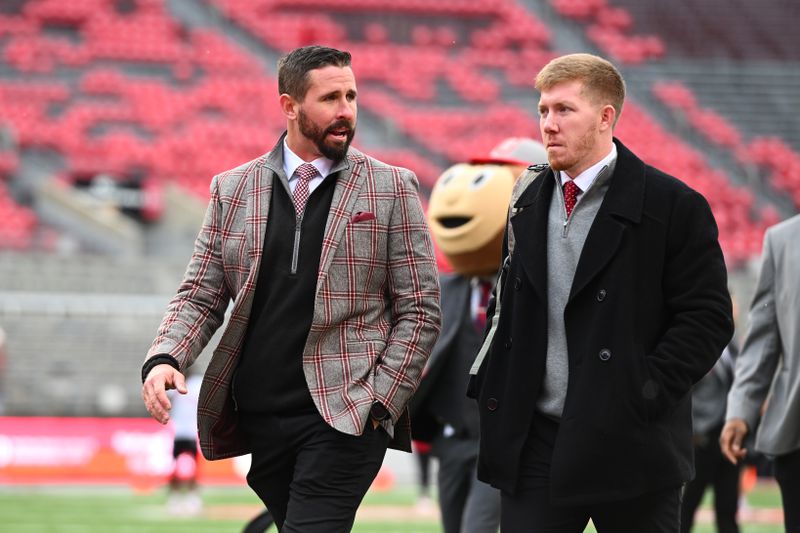 Ohio State Coach Keenan Bailey has been one of the bright young minds in college football, and has been on the Ohio State staff since 2017 serving in a variety of roles, most recently as "Senior Advisor to the Head Coach."
The promotion of Bailey is under the radar but with an open coaching spot after Kevin Wilson left to take the Tulsa Head Coaching job, it was a relatively easy decision for Ryan Day.
Bailey has been a dynamic duo with Brian Hartline in terms of recruiting wide receivers and now should step up Ohio State's game in the tight end department. He has already been on the road trying to make inroads in that department.
Keenan Bailey Gets A Fast Start On The Recruiting Trail
ICYMI: Ohio State's TE Coach Keenan Bailey wasted no time and went down to visit Ohio State Commit Jelani Thurman and watched Thurman take home the state title

Thurman caught 3 Passes 2 of them were touchdowns.

He told @Bill_Kurelic that he is 100% locked in with Ohio State

— Recruiting Edits (@614EditzDSGN) December 11, 2022
In the first 24 hours of being named the Tight Ends Coach at Ohio State, Bailey went down to Georgia and watched Ohio State Commit Jelani Thurman take home the state championship.
According To 247 Bill Kurelic: "He called me before he came to my game (Friday) night," Thurman said. "I wasn't surprised he got the job. I'll definitely get my looks with him going from the wide receivers to the tight ends. I'm 100% Ohio State, locked in.
This is big news because Thurman had some interest in Auburn and a few weeks back their were rumors connecting Thurman to Auburn.
Keenan Bailey Makes Impressions On Ohio State Top 2024 Tight End Targets
Bailey will elevate the recruiting aspect of the tight end room as you should see a growth in terms of recruiting in the coming years.
Bailey immediately stopped by Calvary Day High School in Georgia to check in with 2024 four-star Tight End prospect Michael Smith.
Smith has Ohio State in his Top-9 and he is set to commit on January 24th, 2023
Where's Home at ? @ChadSimmons_ @Cavalier_Sports @DeaveryS pic.twitter.com/Pxdy0ohGZP

— ★ Michael Smith ★ (@ayeemikee1_) October 31, 2022
Bailey Contacts 2024 Four-Star TE Walter Matthews
Bailey also got in contact with 2024 four-star TE Walter Matthews.
Matthews is currently rated 122nd in the 247 compostie rankings, and is high on Ohio State's 2024 Tight End Target Board. He would be a big get for Ohio State down the road.
According to 247 Bill Kurelic "He got me his number," Matthews said. "I definitely need to get to know him. I definitely will come back (for another Ohio State visit)."
 Bailey Checks In With 2024 TE Damarion Witten
Lastly, Coach Keenan Bailey is pursuing is 2024  four-star Damarion Witten.
Witten is an instate prospect that attends powerhouse Cleveland Glenville HS (recent state champions) where another big target, five-star defensive backs Bryce West Attends.
Witten has made multiple trips down to Columbus and is reportedly coming off an Ohio State visit this weekend.
Featured image via: Cleveland.com