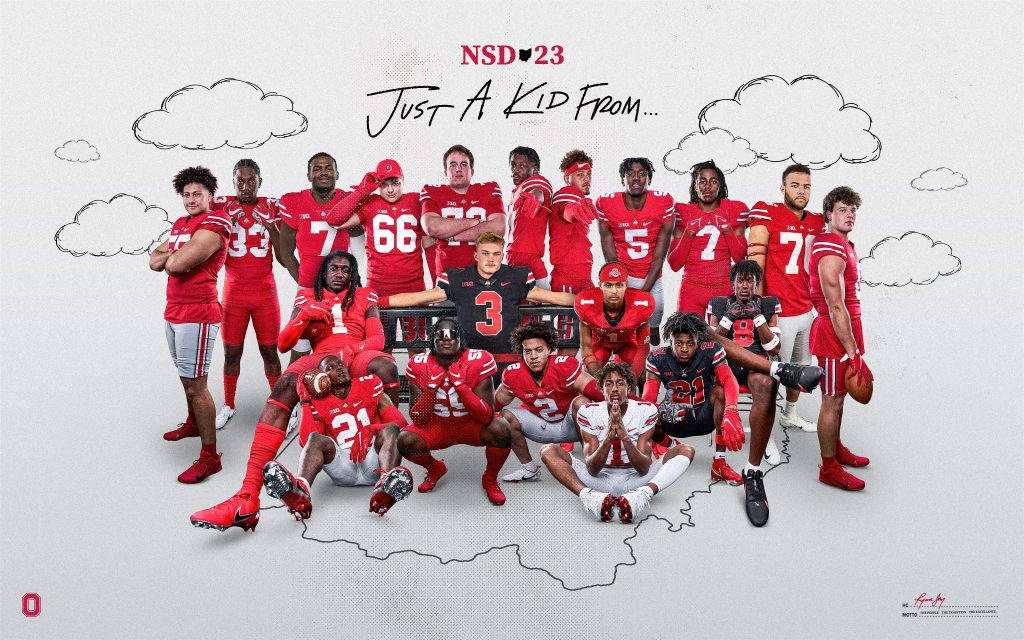 The Early National Signing period definitely ended up being the rollercoaster we expected for the Ohio State football team as well as on the national stage.
From players who were once thought of as sure fire commits, to those same commits holding out until the last minute, to recruits flipping from two different schools within 24 hours of each of other. This was certainly the first time college football felt the real impact of what NlL can do on the recruiting trail and how it can either benefit or sink a program.
Now Ohio State definitely took its lumps and bruises from yesterday's results but this is certainly still a class to raise excitement. Luckily for the Ohio State football team, the Buckeyes are among the few programs that can withstand losing recruits to NIL due to the brand as a whole. That recruiting strategy may have been able to withstand the first years real power and test of NIL but I would not bank on that working towards the future.
Ohio State still left the Early National Signing Day (ENSD) as a top five class in the country but it also found themselves losing out on every major target they had left on the board, including being on the wrong side of some flipped recruitments.
Brian Hartline: National Signing Day Closer
First, let's start with the positives from ENSD. Ohio State was able to once again land a mega class of wide receivers in Brandon Inniss, Carnell Tate, Noah Rogers and Bryson Rodgers. The fact Brian Hartline is able to land the No.1 WR class year in and year out with NIL being a factor is truly a testament to the way athletes perceive Hartline and value his development process. Buckeye fans should continue to feel confident and comfortable with the way the pass game is going to continue to develop in the future.
Offensive Additions
With that being said, the Buckeyes also received a Letter Of Intent (LOI) from South Dakota QB Linconoln Kienholz. This definitely comes as a great addition to the Buckeyes nucleus of QB's as right now the Buckeyes certainly lack some athletic ability in that room.
Kienholz will have the ability to provide a run game right away out of the backfield that will make the Ohio State offense less predictable. It will also give the offense a dynamic that keeps defenses guessing on first and second down situations. Kienholz will not be expected to start right away but he certainly will get to play a part in next years QB battle. Ohio State's decision to flip Kienholz from Washington comes as a major win for this 2023 class.
The Buckeyes also saw all of their in state targets sign their LOI's yesterday which is a positive as well. Guys like Luke Montgomery, Malik Hartford and Arvell Reese, just to name a few, all remained true to their commitments not that we expected anything different, but does keep Day's goal to keep the best in Ohio on track.
New Silver Bullets
As well, the Buckeyes had some success on the defensive side of the ball in landing a late flipped commitment from four star defensive end Joshua Mickens (former LSU commit).
Mickens commitment may have felt bittersweet to most Buckeye fans as the final top priorities at the edge rushing position landed with Oregon (Matayo Uiagalelei) and Georgia (Damon Wilson). Mickens, too, many may have felt like a consolation prize but make no mistake he comes with a lot of upside and the Buckeyes managed to win his recruitment over LSU, Penn State, and Tennessee. There's a lot to like about the Indianapolis four star. Mickens comes with elite size and speed at 6-foot-5, 225-pounds. There's a ton to be built also into that frame through Mickey Marotti's strength and conditioning program.
NIL Impacts on Early National Signing Day
There was certainly lots to be happy about in Ohio State's day but it seems as per usual, the bad outweighs the good in Buckeye recruiting. The Buckeyes were given word about 48 hours before ENSD that Buckeye CB commit Kayin Lee was going to decommit due to an NIL offer from Auburn. The notice was there in case the Buckeyes wanted to match it but of course the Ohio State collective did not have the funds in place to provide. This also ended up being the case when Ohio State lost out on five star edge rusher Damon Wilson.
The Ohio State staff was also left in limbo when one of its most heavily sought after blue chip recruits Jayden Bonsu did not sign his LOI on the timing he announced. Instead, Bonsu called Ryan Day much like Lee did stating that Miami had a fairly large NIL deal on the table for him. The call was essentially to see if the Buckeyes could match, which left Day in a very tough position.
As you can imagine, college coaches now have become sales people and those sales people have to ask their manager if they can afford a player. Luckily, Bonsu gave the Buckeyes the night to scrap together some funds so that by the time the morning came Ohio State was not going to once again lose out on a top DB prospect.
It was a whirlwind of a day but nobody felt that more than the Ohio State staff. As many saw Ohio State come out of ENSD as the biggest "loser" of the day, it can be attributed to the future of the sport. NIL is here to stay and the Buckeyes program can either learn from yesterday or deal with the consequences of what is yet to come.