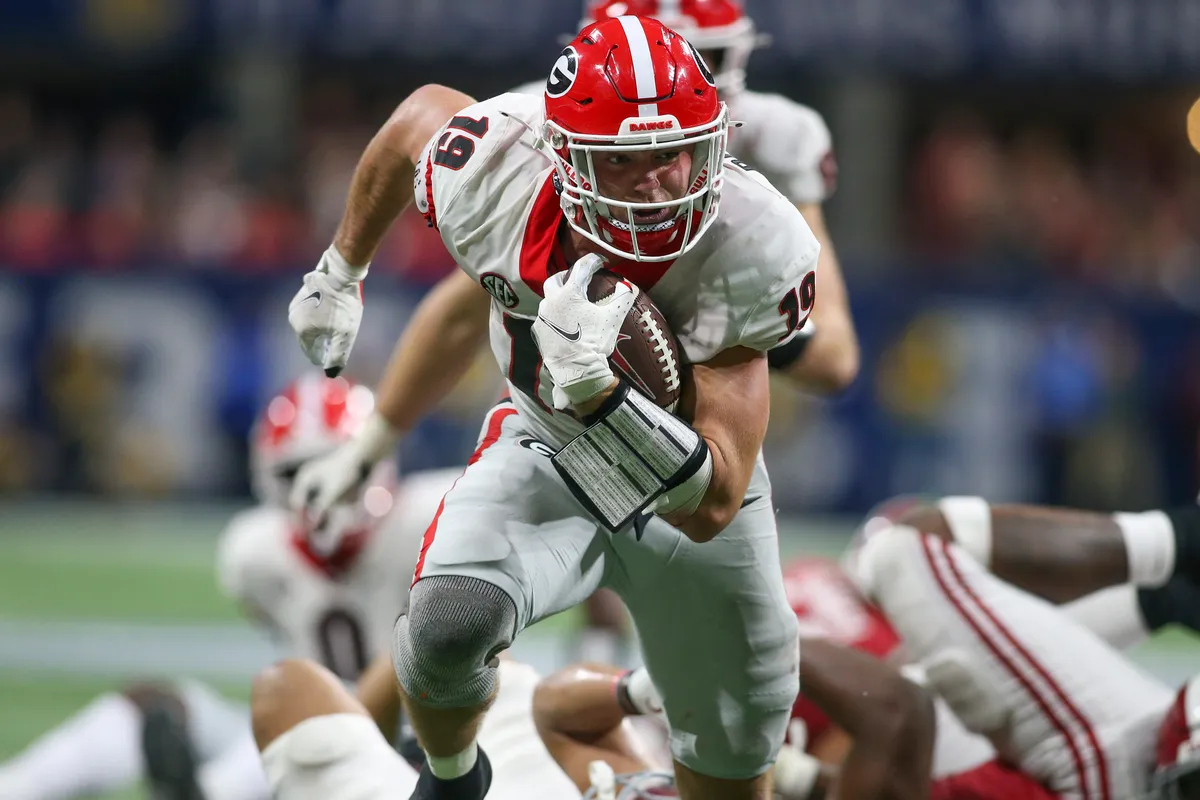 As the CFP Semifinal against the Georgia Bulldogs quickly approaches, Buckeye fans have likely become familiar with who their opponent is. Kirby Smart's team is disciplined, physical, and talented at every level. Many Buckeye fans have probably already heard of Heisman finalist Stetson Bennett and stud defensive lineman Jalen Carter. However, there are many other talented Bulldogs to watch for and know, come game day.
5 PLAYERS TO WATCH:
Brock Bowers:
A 6'4" Sophomore Tight End from Napa, California, Bowers is the leading pass catcher for the Bulldogs with 52 receptions for 726 yards and 6 TDs. He was recently named the winner of the John Mackey Award, solidifying himself as the top tight end in college football. Brock is Mr. Reliable for Bennett and should be heavily targeted. He poses a tough matchup for any defender and will certainly be a test for the Ohio State linebacker/safety groups.
Ladd McConkey:
McConkey is the team's second-leading pass catcher with 51 receptions for 675 yards and 5 touchdowns. The Bulldogs aren't known for a vertical passing offense, but McConkey would be a key piece to any success they have. He isn't a freak athlete by any means, but will be an important cover for an Ohio State secondary that has been inconsistent at best. McConkey was unable to finish the SEC Championship Game, due to knee soreness related to tendinitis. Although, he is back at practice and expected to be full go for the playoff game, per Kirby Smart.
Jacob Dumas-Johnson:
A sophomore inside linebacker, Dumas-Johnson was asked to fill the big shoes left by draft picks Nakobe Dean and Quay Walker. In that role he has performed well, ending the regular season tied for the team lead in tackles with 64. He also has recorded three sacks and a forced fumble. His presence will surely be felt by the Ohio State offense led by CJ Stroud.
Smael Mondon Jr.:
The counterpart to Dumas-Johnson, Mondon Jr. is also a sophomore Linebacker that has had to embrace the next man up mentality. He also tied for the team lead in tackles and has recorded an interception and pass deflection. Mondon Jr. is another essential piece to the Georgia front seven.
Malaki Starks:
Rounding off the trio of Georgia defenders to watch for is this freshman defensive back. Starks also recorded 64 tackles this season, while recording two interceptions and seven pass deflections. The freshman has held his own against talented SEC offenses and been a great addition to a secondary already filled with talent. Along with Ringo, Bullard, and Smith he will be a key piece of Georgia's attempts to slow down Marvin Harrison Jr. and company.
There is no doubt that many more Bulldogs could be added to the list "to watch". However, my belief is that these 5 will have the biggest impact on the outcome of the game, aside from Carter and Bennett. There is immense talent on both sides of the ball, all the hype leading up to the CFP Semifinal should be easily lived up to.
Featured Image via: Brett Davis, USA TODAY, Sports